9 hurt as BCL men, cops clash at CU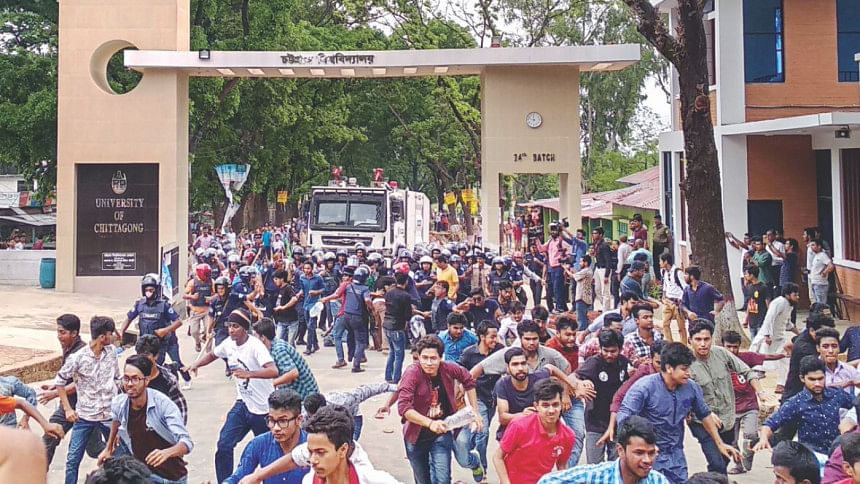 At least nine people, including five policemen, were injured as activists of Bangladesh Chhatra League and police clashed on Chittagong University campus yesterday.
The clash ensued around 11:50am near the university's main gate when BCL activists padlocked the gate as part of their indefinite strike and police asked them to unlock the gate. 
Five policemen and four BCL men were hurt during the clash, said police, adding that they took first aid at the university medical centre.
On Saturday night, the BCL men in a Facebook post declared that they would go for an indefinite strike yesterday to press home their four-point demand, including resignation of Proctor Ali Asgar Chowdhury and withdrawal of Officer-in-Charge of Hathazari Police Station Belal Md Jahangir for filing a "false" arms case against six BCL activists of the CU unit.
The activists of the pro-ruling Awami League student body began their demonstrations in the morning by halting a shuttle train, the main means of transport between the port city and the campus. It caused suspension of classes and most of the scheduled examinations.
"We requested them [BCL activists] to free the road for students. But instead of that, they attacked policemen and left five of our colleagues injured," said Masiuddoula Reza, additional superintendent of police of Chattogram (north).
"We were forced to charge truncheons, use water cannon, and lob teargas canisters to disperse them," he said, adding that two BCL men were detained from the spot.
Additional police forces were deployed on the campus to avoid any untoward incidents, he added.
Rezaul Haque Rubel, former vice-president of BCL CU unit, said police attacked them without any provocation and dispersed them.
A tense situation was prevailing on the campus. The shuttle train service remained suspended till filing of this report around 8:30pm.    
The BCL activists also held the shuttle train driver captive for sometime and sent him home later, said Mustafizur Rahman, officer-in-charge of Chattogram Railway Police Station.
Teachers' buses could not leave the campus as the demonstrators punctured tyres of the buses in the morning, said Proctor Ali Asgar.
Two other demands of the BCL activists are: withdrawal of all "political" cases filed against BCL leaders and activists between 2015 and 2018, and the release of the six BCL leaders, who were arrested in a "false" arms case a few days ago.