Protest pours in over arrest of top editor in Nepal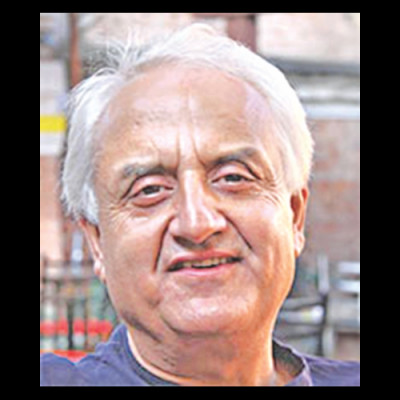 Eminent editors and media figures as well as intellectuals, activists and scholars from India, Nepal, Bangladesh, Australia, US, the UK, and Sri Lanka have called for release of Himal Editor Kanak Mani Dixit who was arrested on Friday in Kathmandu by anti-graft officials.
In a joint press statement issued yesterday, some 45 renowned personalities said they were deeply concerned about Dixit's safety and rights. They called upon the Nepal government to issue a transparent and unequivocal statement on the veteran journalist's detention.
"We condemn all forms of pressure tactics on editors like him and other courageous media figures such as Mahfuz Anam of The Daily Star in Dhaka, who is facing 80 cases of sedition and libel in Bangladeshi courts, as well as other media persons who are committed to the rule of law and justice," reads the statement. 
"It is with deep concern that we have learned of the arrest of Kanak Mani Dixit, the widely respected founder-editor of Himal Media and a courageous voice for transparency, freedom of expression and democratic rights in Nepal and across South Asia. The charges are related to alleged corruption but Kanak Dixit says it is part of a vendetta pursued against him by people in Government.
"We have known Kanak Dixit as a true professional, human rights defender and energetic journalist whose credentials are built on robust research and tremendous courage," the statement added.
Himal Media, a pioneer in South Asia journalism, has published Himal South Asia, Nepali Times and Himal Khabar Patrika (in the Nepali language). Dixit has written extensively for international media, including leading newspapers in India, and is the chairman of Sajha Yatayat, a state-run transportation company, which he has been turning around from a loss-making entity.
The eminent personalities said Dixit's detention came at a time of increased pressure on free media across South Asia.
"We call upon all national and international media organisations, individual journalists and editors, defenders of media under pressure, on those who believe in the freedom of expression, to seek Kanak Dixit's immediate release and a fair and transparent trial, free of bias," said the statement.
Signatories of the statement are: Sanjoy Narayan, editor of The Hindustan Times, New Delhi; Rajdeep Sardesai, chief editor of India Today TV Group, New Delhi; Siddharth Varadarajan, founder editor of The Wire, New Delhi; Karan Thapar, president of ITV and TV anchor; TN Ninan, chairman of Business Standard Pvt Ltd, New Delhi; Swaminathan S Anklesaria Aiyar, consulting editor of The Times of India Group; James Astill, political editor of The Economist; Maja Daruwala, director of Commonwealth Human Rights Initiative, New Delhi; Sevanti Ninan, editor of The Hoot, New Delhi; Salil Tripathi, journalist and author, London; Imtiaz Ahmed, executive director, RCSS, Colombo; Mahfuz Anam, editor of The Daily Star, Dhaka; Sara Hossain, lawyer at Bangladesh Supreme Court; Zafar Sobhan, editor of Dhaka Tribune; Afsan Chowdhury, senior journalist and academic, Bangladesh; Naila Zaman Khan, professor of child neurology and development, Bangladesh; Shahidullah Khan, publisher of Daily New Age, Bangladesh; Lubna Mariam, cultural activist, Bangladesh; Kalpana Sharma, independent journalist, Mumbai; Sanjib Baruah, professor of political studies, Bard College, New York, US; Bina D'Costa, Australian National University; Pradip Phanjoubam, editor of Imphal Free Press; Patricia Mukhim, editor of The Shillong Times; Seema Mustafa, editor of The Citizen, New Delhi; Akum Longchari, founder-editor of Morung Express, Dimapur; Subir Bhowmick, senior editor of BD24news, Kolkata; T Monalisa Chankija, editor of The Nagaland Page, Dimapur; Teesta Setlevad, lawyer in Mumbai; Sandhya Srinivasan, Infoexchange News & Features, Mumbai; Lalita Panicker, senior associate editor of The Hindustan Times, New Delhi; Laxmi Murthy, consulting editor of Himal Southasian; Seema Guha, senior freelance journalist, New Delhi; Sangeeta Barooah Pisharoty, The Wire, New Delhi; Teresa Rehman, managing editor of www.thethumbprint.com; Aruni Kashyap, writer and asst professor of English at Ashoka University, Haryana; Nalaka Gunwardene, columnist, Sri Lanka; Xonzoi Barbora, TISS, Guwahati; Sanjeeb Kakoty, associate professor at Rajiv Gandhi Institute of Management, Shillong; Catherine Masud, filmmaker, US-Bangladesh; Rubana Haq, writer and business, Bangladesh; Anjuman Ara Begum, Forum-Asia, Katmandu; Sanjoy Hazarika, independent columnist, New Delhi; Kamayani Bali Mahabal, blogger and human rights activist, Mumbai; Geeta Seshu, journalist, Mumbai; and Anusheh Anadil, musician and cultural activist, Bangladesh.