Local workers asked to leave plant site
Payra power plant authorities ask Bangladeshi workers not to return till further notice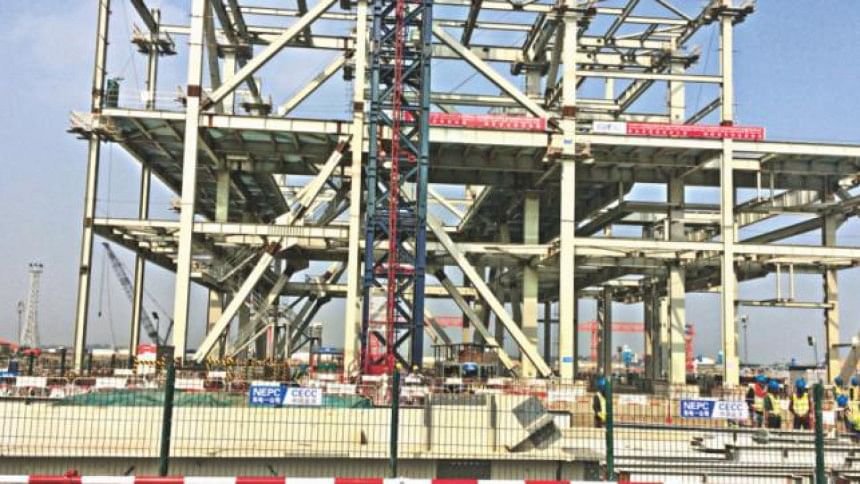 The authorities of Payra power plant have directed the Bangladeshi workers to leave the construction site and not return until further notice.
The directive came four days after a clash broke out between the Bangladeshi and the Chinese workers at the power plant.
According to Moni Shah Jico, junior assistant manager at Payra power plant, only Chinese workers would stay in the power plant area to repair their quarters and take other preparations to resume the construction work.
During that time, Bangladeshi workers will not stay in the construction area, he added.
Meanwhile, most of the Bangladeshi workers left their quarters before the direc-tion came. According to sources, there are 6,000 Bangladeshi workers in the site while only 1,500 of them were staying in their quarters yesterday.
A violent clash erupted between the Bangladeshi and the Chinese workers as Swabindra Das, 32, a Bangladeshi worker, lost his life after falling from a 70-feet tall tower on Wednesday.
The agitating Bangladeshi workers attacked the Chinese workers and vandalised the construction site of the power plant as rumors spread that Chinese workers mistakenly killed Swabindra and were trying to hide his body.
During the clash, seven workers, including five Chinese, were seriously injured.
Of the five Chinese workers, Zang Jon Seng, 26, an electrician at the power plant, died at Barishal Sher-E-Bangla Medical College Hospital on Thursday.
Wang Le Jhing, security director of Payra power plant, filed two cases with Patua-khali's Kalapara Police Station on Thursday night accusing 500 to 600 unidentified people in each.
The cases were filed over the death of Zang Jon Seng and vandalism in the con-struction site of Payra power plant.
The government deployed nearly 600 law enforcers in the plant area after the in-cident.
Meanwhile, police arrested 16 people in connection with the cases. Four of them were sent to jail on Friday after police placed them before court.
A total of 6,000 Bangladeshi and 2,700 Chinese employees work in the construc-tion site of 1320-megawatt Payra Power Plant.
With help of the Chinese Exim Bank, that Payra power plant is being built at a cost of $1.6 billion in Patuakhali district's Kalapara upazila.