One-stop cheating service in exams
Cops nab 10 of a gang, including 3 bank officials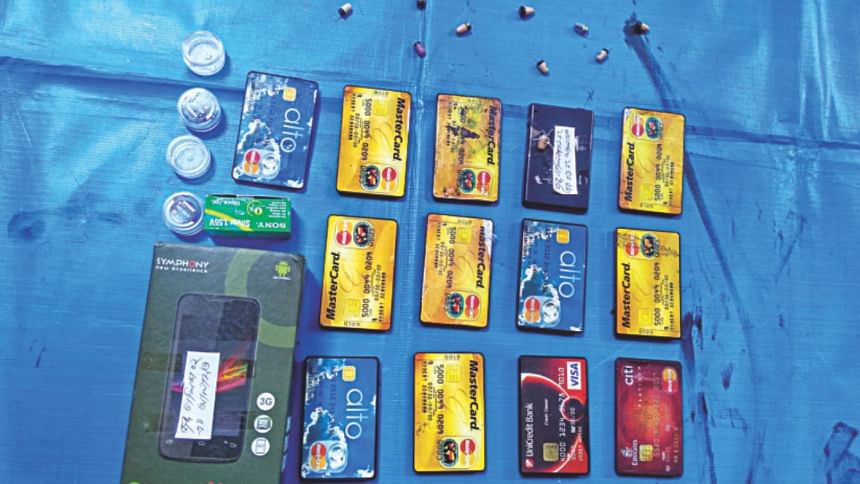 It's like a one-stop shop where subject experts solve questions and supply those to jobseekers and university admission candidates directly at the examination halls using electronic devices.
A Chinese device that looks like a regular debit or credit card but works like a cellphone and a tiny wireless bullet-like earphone sets one up for two-way communications. One just needs to put the tiny earphone in the earhole and the device in the pocket or wallet.
After a few minutes into the test, the examinees are told the answers through the device.
Detectives on Friday arrested 10 members of such a gang including three bank officials from different areas in the capital for their alleged involvement in helping examinees cheat in job recruitment exams and university admission tests.
"This gang has pocketed a huge amount of money illegally. From each examinee or group, they used to take from Tk 35,000 up to Tk 10 lakh," Abdul Baten, joint commissioner of Detective Branch, told a press briefing at DMP Media Centre yesterday.
The arrested bank officials are Monirul Islam alias Suman, probationary officer of Pubali Bank, Ashim Kumar Das, IT officer of Sonali Bank, and Sohel Akand, probationary officer of Bangladesh Krishi Bank.
"Pulakesh Das Bachchu, a Thana election officer, is the kingpin of this racket aided by assistant director of Bangladesh Bank Abu Zafar Mazumdar alias Rubel," according to a case filed with Ramna police.
Both of them were students of Jagannath University and have been involved in the racket, having around 15 to 20 members, since their university days, according to DB sources.
Pulakesh collected the devices from one his accomplice, named Curzon, Abdul Baten said, adding that the three have gone into hiding. Other members of the gang collected examinees and made contract with them, he added.
Abu Zafar joined Bangladesh Bank in 2015 while Pulakesh started working at the EC in 2014.
DB officials suspect the arrested bank officials and the others, who are on the run, got jobs through cheating.
The other arrestees are Jahirul Islam, Saddatur Rahman alias Sohan, Nadimul Islam, Enamul Haq alias Shishir, Sheikh Tarikuzzaman, Arnab Chakrabarty and Arifur Rahman alias Shaheen.
A DB team conducted a drive in the capital's Eskaton, New Market, Farmgate and Mirpur areas on Friday afternoon and arrested them. During the drive, a scuffle took place when Jahirul, Ashim and Nadimul got hurt, says the case statement.
Small batteries, earphones and specialised electronic devices were seized from their possession.
Mashiur Rahman, deputy commissioner of DB (North), said they have a room in Panthapath area where the gang gathered on weekends as the tests are usually taken on Fridays.
"The members are service holders from different occupations like government officials, engineers and private university officials," he added.
Asked how the questions got leaked during the tests, the official said this gang usually sets up false examinees, who pass the questions outside using the same device, the DC said.
They had been doing this for last seven to eight years since their student life, he added.
"This gang now wants to cash in on SSC and HSC exams using the same technology, as the government is taking all-out action against question paper leak," the official said.
The DB filed a case with Ramna police accusing 13 people, including the 10 arrestees, under the public exams law and ICT act.
The 10 have been put on a three-day remand.
The police said they are now trying to arrest the other accused.
Earlier, the CID tracked down a similar kind of racket after the "Gha" unit entrance test of Dhaka University on October 20 last year.