Noab Statement: It may breed hostility in the industry
BFUJ, DUJ say in joint statement on wage board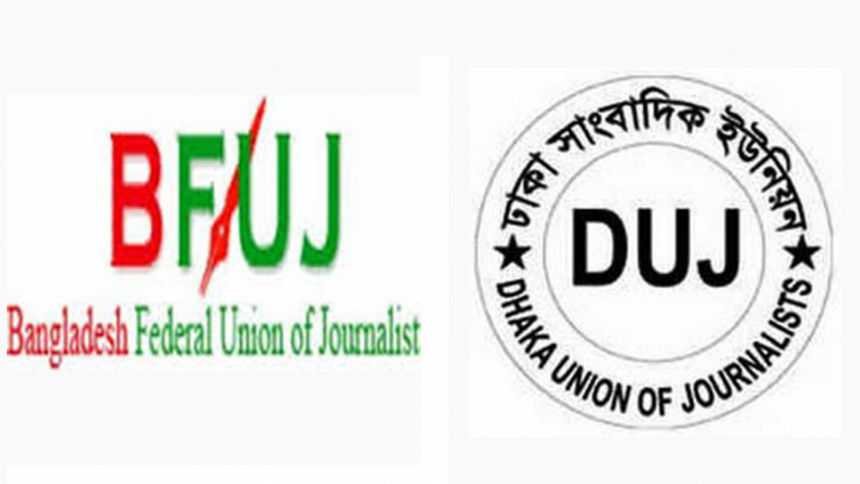 Factions of Bangladesh Federal Union of Journalists and Dhaka Union of Journalists yesterday protested the recent statement of Newspaper Owners' Association of Bangladesh (Noab) on the 9th Wage Board proposals, saying such a statement would create a "hostile relationship" between the owners and media workers. 
In a joint statement, the BFUJ and DUJ said the Noab statement seemed to be "unacceptable and unrealistic, devoid of morality, and an attempt to hide facts".
Journalists and workers always carry out their professional duties considering their organisations to be their own, read the statement.
However, the way the owners questioned the media workers' living and dignity at the final stage of the announcement of the 9th Wage Board award, it will create a new crisis for the newspaper industry, it added.
"This will create distance and a hostile relationship between the owners and media workers. Its impact will damage the whole industry."
Earlier, the Noab statement said, "Under the government salary scale, the most meritorious student joins as a civil cadre in grade-9 with an initial salary of Tk 35,600."
The BFUJ-DUJ said they thought such a statement was disgraceful for journalists. "Numerous best students are in journalism after obtaining highest degrees from universities."
The joint statement said although the government issued a gazette for 45 percent dearness allowance under the 9th Wage Board last year, newspaper owners have been depriving media workers of the allowance for about a year.
The salary structure of journalists was divided into five categories in the 8th Wage Board, but the Noab in its statement mentioned only about category-A. The Noab incorrectly stated the starting salary grade of journalists as grade 3. In fact, grade 3 is for a staff reporter. According to the 8th Wage Board, the starting salary is paid under grade 4. In an A-category newspaper, a grade-4 journalist gets a basic salary of Tk 12,600 and the figure gets as low as Tk 5,250 in an E-category newspaper, said the joint statement.
It said the BFUJ and the DUJ will have no objection if the Noab gets more facilities from the government for the excellence of the newspaper industry and the welfare of journalists and media workers.
The platforms, however, warned that they would not accept sacking of journalists or deprivation of their due rights over the wage board award.
If needed, journalists and media employees will go for a tougher movement to realise their demands, said the joint statement.
The Noab in its statement on Wednesday said, "Newspaper owners always try to provide financial security and salary-allowance to journalists and employees. For this, despite difficulties, some newspapers have been trying to implement the government announced wage board award. At present, however, the newspaper industry is passing a harder time than at any given point in the past. In such a situation, the unrealistic proposal of the 9th Newspaper Wage Board will create a great crisis for this industry. The chairman of the 9th Wage Board has finalised the wage board award unilaterally and submitted it to the ministry concerned. A cabinet committee has been formed to finalise the proposal. Recently, the committee has also taken an initiative in this regard."