Vegetables becoming dearer
Spices and vegetables have become significantly pricier over the last one week largely due to inundated farmlands.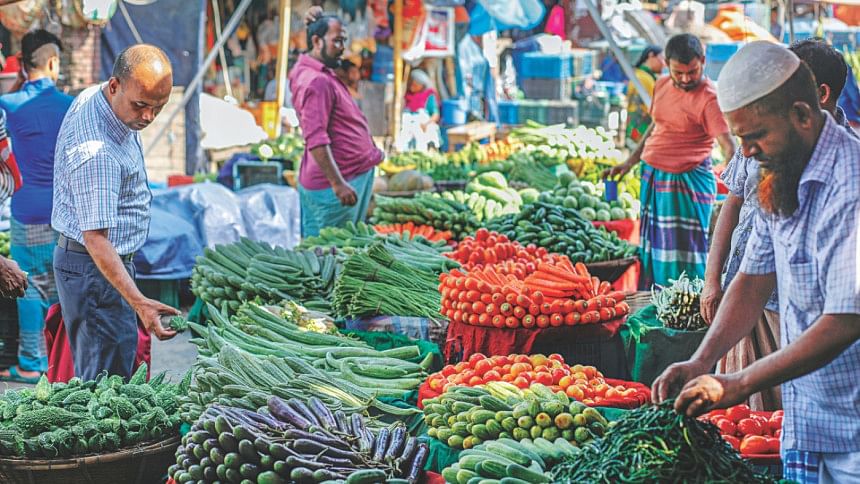 Spices and vegetables have become significantly pricier over the last one week largely due to inundated farmlands.
Green chili prices have more than doubled with each kg being sold for between Tk 180 and Tk 200, up from Tk 70 to 90 at different kitchen markets in the capital. 
Prices of onion and garlic have also increased by Tk 10 to Tk 30 per kg.
Retailers and wholesalers say the floods were pushing the prices upwards.
"We know the floods have damaged crops. The vegetables prices could rise as a result, but not to this extent," said Sayem Rahman, who was shopping at Hatirpool kitchen market yesterday.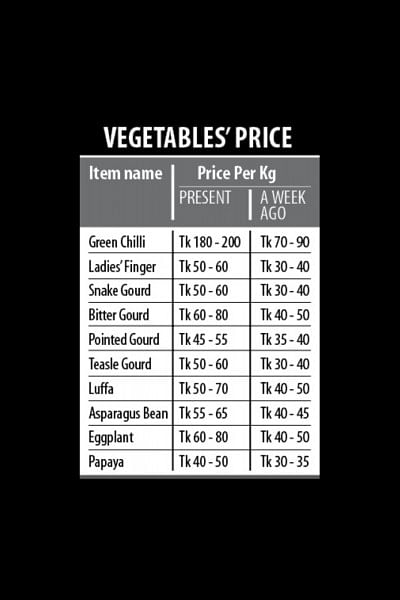 "Look at the price of green chilli. How is it justifiable?" he asked.
At Sheorapara kitchen market, Rotna Begum, wife of an auto-rickshaw driver, said, "I wanted to buy two vegetable items. But the prices are so high I could only afford a kg of pointed gourd for Tk 50."
The pictures were similar at kitchen markets in Karwan Bazar, Hatirpool, Moghbazar, Sheorapara and Kazipara areas.
The prices of bitter gourd, pointed gourd, ladies' finger, snake gourd, asparagus bean, papaya and all verities of spinach also increased significantly.
However, potato, imported tomato and carrot prices remain nearly unchanged.
Ramiz Uddin, a wholesaler of vegetables in Karwan Bazar, said the supplies have reduced significantly due to the flooding.
"I used to bring about six tonnes of vegetables from Manikganj every day. But now I bring only about 1.5 tonnes. The prices are high there too," he said.
He added that the prices may rise further if farmlands continue to remain inundated next week.
According to the Department of Agricultural Extension, the floods have affected a large portion of farmlands in 26 districts until last Friday.
About 39,000 hectares of Aush fields, 11,000 hectares of Aman seedbeds, and 10,000 hectares of vegetable farms have been submerged, it said.
SITUATION IN CHATTOGRAM
Prices of vegetables and meat soared excessively at both wholesale and retail markets in the port city as well.
In the wholesale markets, the average price of all kinds of vegetables rose by Tk 10 last week while a dozen egg now sells for Tk 125, which was Tk 110 a week ago.
Traders said stored vegetables were damaged during the incessant downpour last week, leading to the price hike.
Amir Hasan Shahriar from Chattogram contributed to this report