Three killed as Maitree Express rams minitruck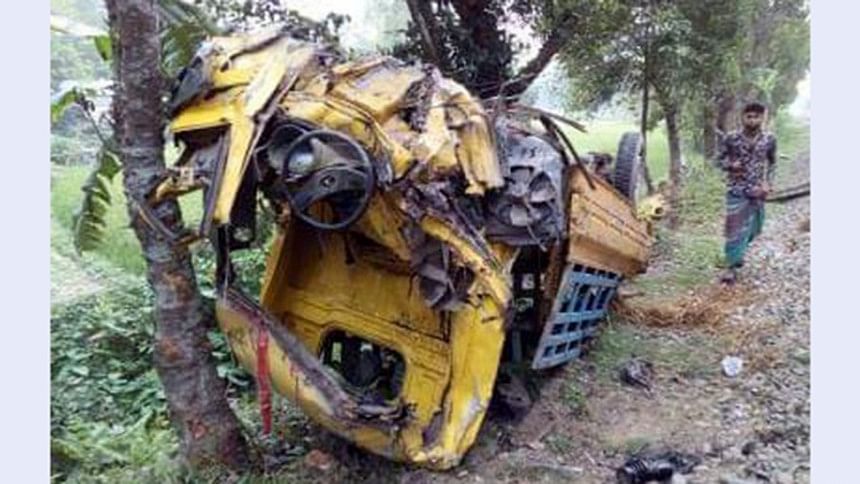 Three people were killed as Dhaka-bound international passenger train Maitree Express rammed a mini-truck at an "unauthorised" level crossing in Kamarkhand upazila of Sirajganj yesterday afternoon.
Mini-truck driver Surja Pramanik, 45, of Borokura village died on the spot, according to Sub-Inspector Shafiqul Islam of Kamarkhand police.
Cattle trader Rafiqul Islam, 42, of Pakuria village was declared dead after he was taken to the upazila health complex and his fellow trader Minhaj alias Nihar, 25, of the same village died while undergoing treatment.
The accident occurred around 1:30pm when the train coming from Kolkata hit the mini-truck in Koyelgati area when the truck carrying three traders and five animals was crossing the railway track, the police official said.
The third cattle trader, Hasan, 25, of Bashbaria village, suffered critical injuries and was shifted to Sirajganj Sadar Hospital.
Contacted, Divisional Railway Manager Nazmul Islam said the level crossing in Koyelgati area was unauthorised.
"Nobody consulted with the railway authorities before constructing the level crossing," he said, adding that they still installed a red notice asking the drivers to remain alert while crossing it.
A four-member probe committee headed by a transportation inspector would investigate the collision and installation of the level crossing without their approval, he added.
Kamarkhand Upazila Nirbahi Officer Jahangir Alam said he visited the families of the victims and handed them over an immediate compensation of Tk 25,000 each.