Into the world of thieves
They take only cash, never return to the same area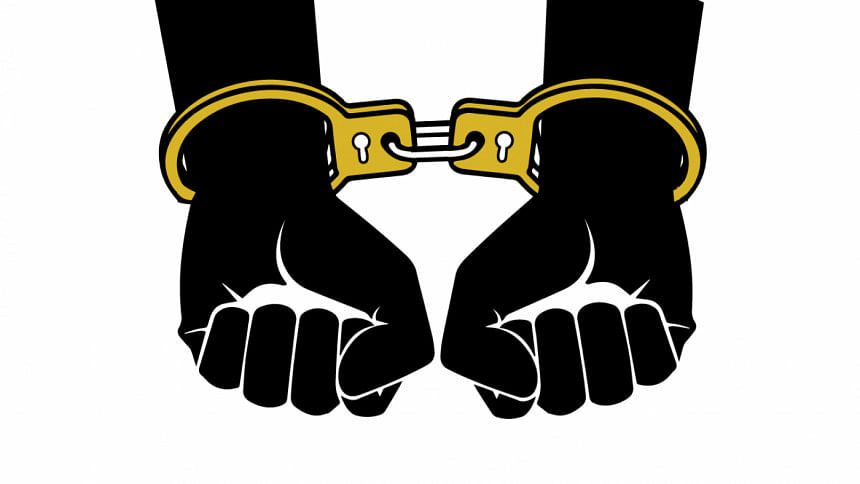 He told police that he was just a petty thief two years ago.
Sometimes he stole shoes from mosques during prayers and sold those on footpaths in the capital's Gulistan.
While in jail a couple of years ago, he met two other inmates and later formed an organised gang of 28 burglars who travelled across the country and broke into jewellery, cell phone or money-exchange stores in supermarkets and stole the cash.
Officers of Dhaka Metropolitan Police's Detective Branch found out about Abdullah and his gang while investigating the theft of Tk 11.41 lakh from a money-exchange shop in January in Uttara.
The amount was recovered from them.
A DB team arrested 10 members of the gang, including Abdullah, in a residential area near Kamalapur Railway Station on Friday, Mashiur Rahman, deputy commissioner of DB (north) told The Daily Star yesterday.
The other arrestees are Ridoy Hossain Badsha, 19, Rasel, 27, Sohel Mia alias Kala Sohel, 22, Mahabub Hossain alias Sumon, 26, Jabed Robi, 27, Mohorrom alias Sharif, 21, Shamim, 24, Sharif Hossain, 25, and Parvez Hossain, 26.
The arrestees told police that they had been stealing cash for the last one and a half years from shops in Hazaribagh and Uttara in the capital and Cumilla, Feni, Tongi, Savar and Chattogram.
Except Shamim, who is from Narsingdi, the rest of the arrestees are from Cumilla.
Officers learnt that Abdullah had been arrested several times before for stealing shoes or carrying drugs. He met two of the gang members Sumon and Jabed in prison a couple of years ago.
After being freed, they formed the gang that includes locksmiths and other individuals who come in handy for the heists.
Members of the group closely observed shops in popular marketplaces and selected which shop to rob.
Once the target was fixed, they kept an eye on the shop and observes when the shop opened and closed.
Abdullah told police that he was the coordinator of the group, said Mashiur Rahman, adding, "They are capable of breaking any shutter gates or locks without making any loud noise. It takes them less than two minutes to complete a job."
They never robbed shops twice in a single area, the officer added.
The gang members mainly targeted shops that closed minutes before other shops in a shopping centre.
They gathered in the market and bought bed sheets or long fabrics and went in front of their targeted shop, said investigators.
They then showed the fabric to each other in front of the shop creating a temporary veil. The locksmiths meanwhile broke into the shop and took the cash. It all happened in a couple of minutes, the officer said.
The gang members could not mention how many heists they had done so far.
"We have learnt that four such organised burglars are active now."
Mashiur added that detectives would be looking for them.