Minister's PO, two others in custody
They went missing in last 4 days; DB claims all held yesterday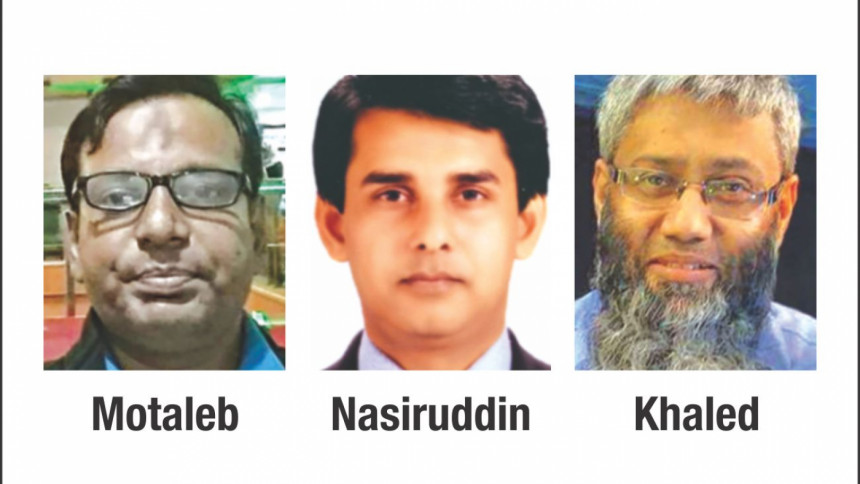 Detectives claimed that the three people, who had allegedly been picked up by plainclothes men in similar fashion over the last four days, were arrested by them yesterday.
"A DB team arrested the three raiding the capital's Gulshan and Basila areas," Masudur Rahman, deputy commissioner (media) of Dhaka Metropolitan Police, told The Daily Star last night.
He said the team arrested Nasiruddin in Gulshan around 8:30pm with Tk 1.3 lakh in his possession. They arrested Motaleb Hossain at Basila following information gleaned from Nasiruddin, he said.
In another drive, the DB men arrested Khaled Hassan Matin, owner of controversial Lakehead Grammar School in the capital, at Gulshan, Masudur said.
He, however, refused to divulge details, like why they were arrested and what were the charges.
However, sources wishing not to be named claimed that Khaled was detained for terror funding, and Nasiruddin and Motaleb were in connection with bribery.
General diaries had been filed after the men had gone missing and the police were looking for them.
Motaleb, personal officer of Education Minister Nurul Islam Nahid, had been missing since Saturday after a group of people picked him up in the capital's Basila area.
The incident happened just two days after Nasiruddin, another employee of the ministry, went traceless. 
Motaleb's mobile phone was found switched off since Saturday. His brother Shahabuddin Ahmed filed a general diary with Hazaribagh Police Station in this regard.
Talking to The Daily Star, Shahabuddin said a group of people in two cars went to Basila around 3:00pm when his brother was supervising construction of their building there.
There, four of them got out of the cars and enquired about the house owner. They said they wanted to talk about renting a flat in the building for their office, Shahabuddin said, quoting relatives who were on the spot.
They went to the roof of the building where Motaleb was and came downstairs with him minutes later.
At one stage, the unknown people forced Motaleb into one of the cars and sped away, police and ministry officials said, quoting witnesses and family.
Mir Alimuzzaman, officer-in-charge of Hazaribagh Police Station, had said that they were trying to find Motaleb.
On Thursday, Nasiruddin, an upper division assistant (UDA) of the education ministry, went missing. He was on his way to the ministry from his Khilkhet home.
Education Minister Nahid and high officials of the ministry held a meeting yesterday about the matter.
After the meeting, he told reporters that they were yet to know who took their officials and why.
The minister said he spoke to the home minister, inspector general of police, and Rab director general and requested them to take necessary measures.
Lakehead Grammar School owner Khaled was missing after he was allegedly picked up by unidentified plainclothes men from in front of the school's Gulshan branch on Saturday afternoon.
Edris Ali, an employee of the school, filed a GD with Gulshan Police Station the same day.
Mentioning the GD, police said some people met Khaled in front of the school and told him to go with them. Then they took him away in a microbus.
Khaled, also the managing director of RM Group Ltd, a company that supplies construction equipment and materials, purchased the school in March last year.
On November 7 last year, the district administration of Dhaka sealed off Dhanmondi and Gulshan branches of the school, closing all activities on allegations of patronising militancy, inspiring extremist views and helping militant outfits form.
The Supreme Court later ordered the school to be reopened with a new board of directors comprised of military officials and the Dhaka divisional commissioner chairing.
On January 13, the school was reopened.
Talking to this newspaper on November 7, Khaled said they had bought the school not knowing the allegations against its management. He had claimed to have brought changes to the entire management of the school.