Plunder of Sangu Forest: Probe body fails to visit affected area
BGB denies it entry for 'security reasons'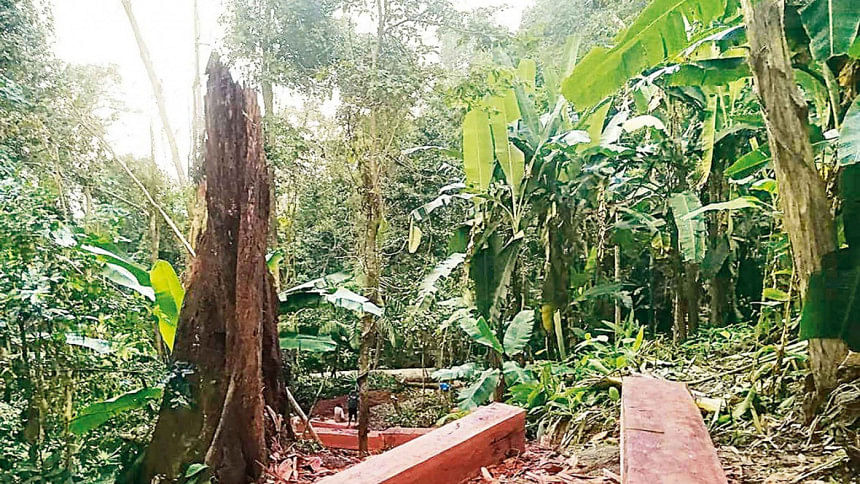 A member of the probe committee, formed by the forest department following a recent report of The Daily Star, has said the BGB on security grounds didn't let them enter the Sangu reserve forest, hampering their efforts to assess the level of destruction there.
"It is really very disappointing for us that the BGB did not allow us to enter the reserve forest yesterday [Saturday] for security reasons," Deputy Chief Conservator of Forest Md Zaglul Hossain, also a member of the committee, told The Daily Star.
The five-member probe committee was formed after The Daily Star published a report on the destruction of the Sangu reserve forest on December 27, he added.
The report titled "Sangu Reserve Forest: Left exposed to human greed" mentioned that loggers have been plundering a huge number of century-old trees in the reserve forest over the last few years.
Asked, Col Gazi Nahiduzzaman, sector commander of Border Guard Bangladesh Bandarban Region, said, "When they [forest officials] sought our cooperation, we told them to take permission from the BGB headquarters."
Talking to this correspondent, Jumlian Amlai, president of Bandarban chapter of Parbatya Chattogram Forest and Land Rights Protection Movement, alleged that loggers had transported the plundered trees from Sangu reserve forest to different remote areas in Thanchi upazila after learning that the probe committee would visit the forest.
"Some unscrupulous officials at the forest department tipped off the timber smugglers about the committee members' visit. The smugglers shipped the plundered trees to various remote areas, including Wak Chakkai Mro Para and Baklai Road area in ​​Thanchi," he claimed.
Jumlian further said many of the plundered trees were hidden at various points of the Sangu River.
Contacted, Md Anwar Hossain, assistant conservator of forest of Bandarban Pulpwood Plantation Division, said "Today [yesterday], we seized over 3,000 cubic feet timber from Wak Chakkoi Mro Para, Baklai road and also a place near the Thanchi UNO's residence."
"These might be from the Sangu reserve forest …" he added.