Road made cutting hills, trees in CU
University fails to stop onslaught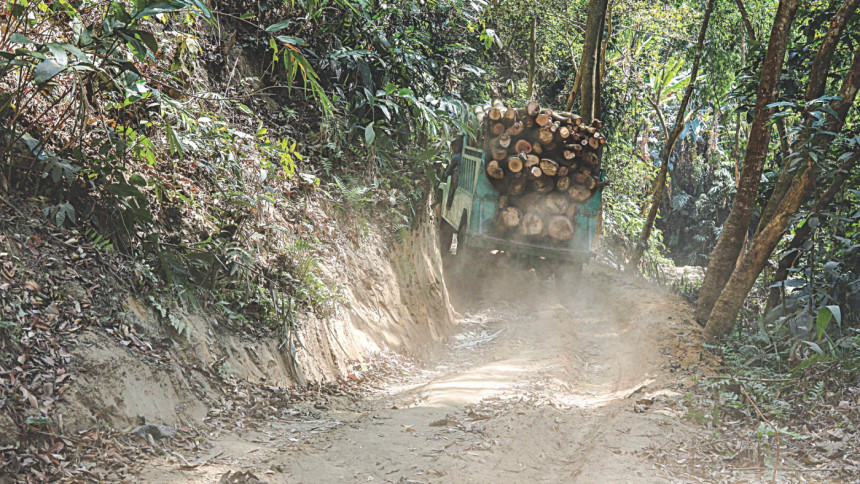 Two traders have cut hills and trees at Chittagong University to build a dirt road through the campus for carrying logs of trees from a nearby area in Hathazari upazila.
Md Hanif and Bajal, local wood traders, had been felling trees in the area for about four years and carrying the logs in pick-ups, locally known as Chander Gari, through the campus, said witnesses.
Hills were partially cut in about one-kilometre long area stretching from Lal Bhandari Ansar Camp to the boundary pillars of the CU. Outside, hills were partially ruined in another 4-km long area in Hathazari.
Prof Touhid Hossain, former administrator (estate) of the university, said the trees on the campus were felled without taking permission from the CU authorities.
Sources at the CU said around 7,000 trees were cut in Hathazari in four years.
Officials of the Department of Environment said the traders didn't seek permission from them for felling the trees.
Visiting the area two months ago, this correspondent found several workers cutting trees in Hathazari and collecting logs. A log-laden pick-up was seen plying on the dirt road.
Locals said the traders stopped cutting trees on Sunday after a national daily ran a report on the incident.
According to Bangladesh Environment Conservation (Amendment) Act, 2010, cutting and/ or razing a hill or hillock by an individual or institution is prohibited. This can be done only after availing a clearance certificate from the DoE if in the national interest.
Yesterday, a team of the DoE visited the area to investigate the complaints. It found the allegations of cutting trees and hills to be true.
Speaking to The Daily Star, DoE Deputy Director (Chattogram division) Jamir Uddin said none can cut a portion of a hill, let alone building a dirt road.
He said they would soon submit a report to the higher authorities in this regard.
COMMITTEE MEMBERS RESIGN
On January 29, the CU authorities formed a five-member body, "Committee to prevent cutting trees", to check felling of trees on the campus.
On Sunday, three members of the committee stepped down saying they could not work due to pressure and threats from an influential quarter. Among them are Prof SM Monirul Hasan, also proctor of CU.
Talking about his resignation, he told this newspaper, "Why will we work if our dignity is harmed?"
Expressing grave concern over the incident, Prof Kamal Uddin of the CU's forestry and environmental science institute said the effect of cutting hills and trees would be dangerous.
"Due to cutting of hills, the low-lying lands in and around the campus would be filled up. It would ultimately cause flooding in the area in the near future", he added.
CU Vice-Chancellor Prof Shireen Akhter said they would form a new committee in this regard and would take action against cutting of hills and trees after receiving reports from it.
Contacted, Hanif said he didn't know that taking permission from the DoE was necessary for cutting hills and trees.
"We bought trees from the owners of some gardens. We only cut a small portion of the hills as we had to build a narrow dirt road for carrying logs from there."
The trader said they paid the university Tk 100 for each pick-up as daily gate-pass charge. He also showed a few money receipts to this correspondent.
Bajal, however, denied the allegations of cutting trees and hills.