Mosquito Menace in Capital: DNCC, DSCC doing little to contain it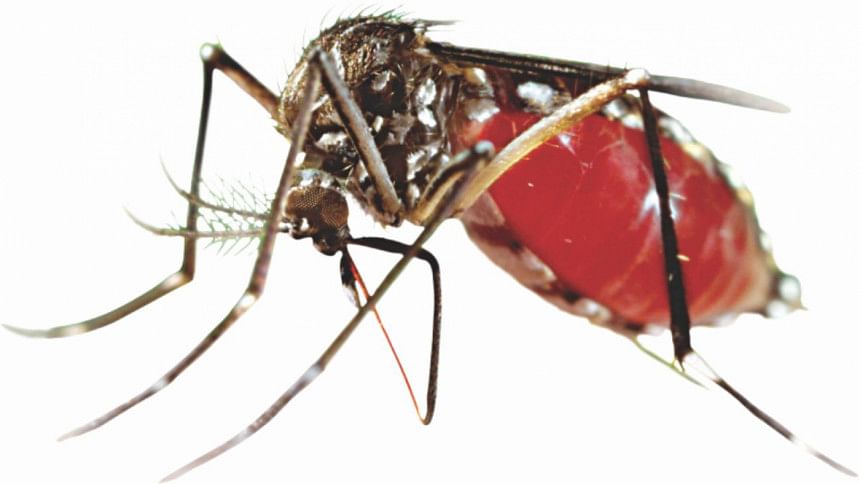 The capital's mosquito population seems to be rising, but the two city corporations are doing little to contain the menace.
The problem is particularly acute in Mirpur, Pallabi, Kalshi, Matikata, Bhashantake, Gulshan, Uttara, Senpara, Shyampur, Kamrangirchar, Manda, Kutub Khali, parts of Demra, Shanir Akhra and Jurain.
There are 569 bighas of water bodies under Dhaka South City Corporation (DSCC) and 2,276 bighas under Dhaka North City Corporation (DNCC) that need to be cleaned immediately, said officials.
Precautions typically have to be taken before the culex mosquito breeding season (October to March) to effectively control the menace, they added.
The most effective method to combat the outbreak of mosquito-borne diseases is the use of larvicide, which is applied on stagnant water bodies, targeting to kill the mosquito larvae, said city corporation officials.
The use of adulticide sprays is also useful as it kills the flying mosquitoes, they added.
The primary responsibility of controlling the mosquito population lies with both the city corporations. However, the only step they have been seen taking is the occasional spraying of insecticides around the city households and into a few drains and water bodies.
When asked why the precautions were not being taken, they replied steps would be taken soon.
In 2018, data from the Department of Health shows that 10,148 people were diagnosed with dengue, with 26 deaths reported.
Between January and late February, some 42 patients were diagnosed with dengue, data also showed.
Residents of Gendaria said the area's lone pond has been covered in water hyacinths for several years now, making itself a fertile ground for mosquito breeding.
Recent encroachment around the pond by some influential locals has made it a garbage dumping site, heightening the menace, they added.
A lack of monitoring at the field level also means that the workers are nonchalant about spraying insecticides.
Chief Health Officer of DNCC Brig Zakir Hossain told The Daily Star that they would embark on a crash programme soon.
The corporation partially cleaned the water bodies in January; they will resume those operations again, he added.
Chief Health Officer of DSCC Brig Gen Md Sharif Ahmed, who took office recently, said they had prepared a master plan with yearlong activities to tackle the mosquito population.
The plan is currently awaiting approval from the authorities concerned, he added.
Tashmin Jahan, a resident of Mirpur-10, said they burn mosquito repellent coils just before evening. "But it is not an effective remedy."
Tapon Chandra Das, a resident of Dogair area in Demra, said, "It has become tough for us to even sit inside our homes in the evenings for the mosquitoes. We use mosquito nets at night, or else it is impossible to sleep at night."
"My daughter Puja Rani Das, an HSC candidate, has to study sitting under a mosquito net as it is impossible to sit at her desk because of mosquito bites," he added.