Remove all IEDs, landmines along the border
BGB asks Myanmar Police Force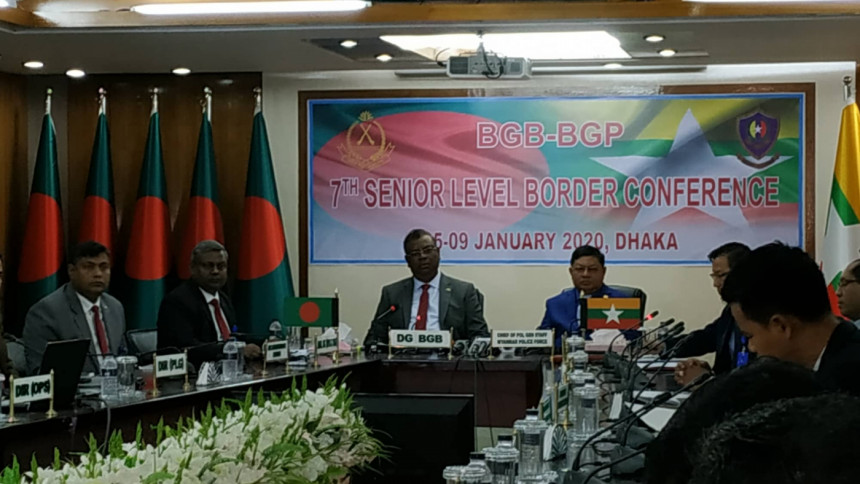 Border Guard Bangladesh has requested its Myanmar counterpart to remove landmines or improvised explosive devices (IEDs) from the Bangladesh-Myanmar bordering areas.
Myanmar Police Force, however, claimed they didn't use such IEDs.
"There are a number of insurgent groups along the shared border. The IEDs might be planted by those groups, not by the Myanmar troops," Police Brigadier General Myoe Than, chief of police general staff of Myanmar Police Force (MPF), claimed while replying to a query on the casualty of the landmine blast along Myanmar borders.
BGB Director General Major General Md Shafeenul Islam and Myoe Than were talking to reporters at a press conference yesterday at the BGB Headquarters in Dhaka centring the five-day Senior Level Border Conference, which began on January 5.
Major General Shafeenul Islam led the 14-member Bangladeshi team while the eight-member Myanmar team was headed by Brigadier General Myoe Than.
According to the officials, both countries agreed to take action against secessionist terrorists and emphasised on sharing real-time information and frequent interactions at various levels to stop drug trafficking, human trafficking and illegal border crossing.
Myanmar troops have been accused of planting mines along border areas to prevent Rohingyas from returning to their villages in the Rakhine State. Rohingyas typically use the porous border to travel back.
At the height of a mass exodus, when tens of thousands of Rohingyas poured into Bangladesh, several were killed or seriously hurt in suspected landmine explosions along the border.
Anti-personnel mines were banned under a global treaty in 1997.
Rights group Amnesty International said then that it had documented what appeared to be the targeted use of landmines along a narrow stretch forming part of the north-western border of Rakhine.
The BGB chief said such IEDs or landmines are dangerous for both the bordering troops. The BGB expects that Myanmar will remove the IEDs, which are planted between zero borderline and 50 yards of the bordering areas.
"Border roads will be constructed along the Bangladesh-Myanmar border. A Myanmar representative team has assured that the IEDs will be removed before the construction of the roads," the BGB DG added.
Replying to a query, he said Bangladesh has undertaken a plan to construct barbed-wire fences along the Myanmar border in phases to prevent illegal intrusion, drug smuggling and border-related criminal activities.
During the seventh Senior Level Border Conference, Bangladesh declared that it will maintain a "Zero-tolerance" policy with all-out efforts to prevent the trafficking of illicit drugs and psychotropic substances, especially yaba, along the border lines, while Myanmar has agreed to continue anti-narcotics drug measures in accordance with its national drug control policy.
"Due to strong vigilance by both the bordering troops, yaba trafficking through the Naf river has decreased. Now, yaba is entering through Bangladesh's southern part using the northern border of Myanmar," said the BGB chief.
Though he praised the Myanmar counterpart's action for curbing yaba trafficking, just a week ago the home minister at a programme in the capital, said yaba trafficking has not stopped because Myanmar didn't keep its promise. "Myanmar promised on different occasions that they would take steps to stop yaba trafficking [into Bangladesh], but they haven't taken any initiative."
Both countries agreed to cooperate with each other in fighting transnational crimes, arms smuggling, violation of rules, not to violate the sanctity of 150 feet (50 meter) on each side of the boundary line by any means without prior approval from both parties and to notify each other if any shooting incidence takes place in the border area.
In case of anyone crossing the border unknowingly, both countries agreed to return the citizens to their homeland abiding by all rules and regulations.
The next Senior Level Border Conference between the BGB and MPF will be held in Myanmar in May/June 2020 or when convenient based on a mutually agreed upon schedule.