Probe bodies visit FR Tower
Focus on possible deviation from approved building plan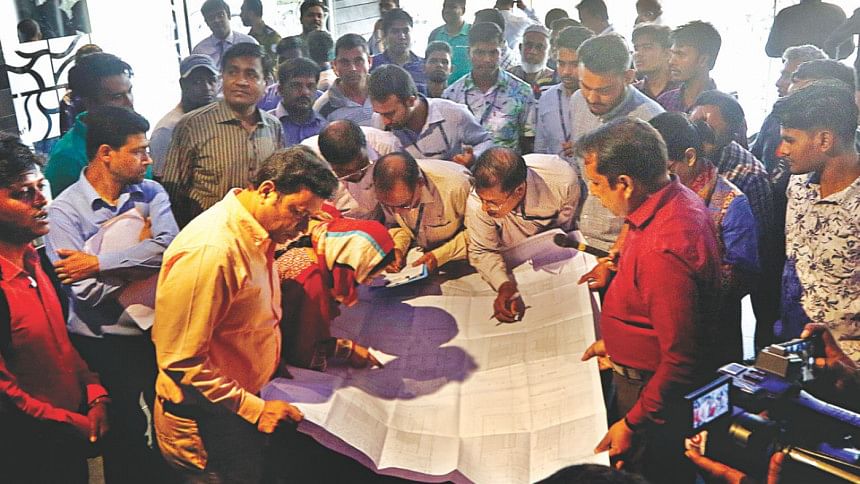 The probe body formed by the housing and public works ministry yesterday visited the fire-ravaged FR Tower to assess if the building plan submitted by the owners differs with the one approved by the Rajuk.
However, the eight-member committee inspected the Banani high rise without having the plan that the Rajdhani Unnayan Kartripakkha (Rajuk) authorised, saying the city development authority is yet to provide a copy.
"We have been able to collect the owners' copy of the building plan for the FR Tower but Rajuk is yet to give us its copy," Kazi Golam Nasir, chief architect of the architecture department under the ministry, told reporters after inspecting the building around 11:30am.
"We are planning to compare the Rajuk-granted building plan and the one provided by the owners of the FR Tower so that we can investigate if there are any differences between the two."
Meanwhile, another eight-member probe team, formed by the Institution of Engineers, Bangladesh (IEB), inspected the spot for three hours but refrained from commenting in details.
Engineer Kazi Khairul Bashar, a member of the probe body, said fire might have originated there from an electrical short-circuit from an air conditioner or other things on any floor between seventh and ninth.
"There will be a meeting on April 4. We will not comment today," he added. 
Meanwhile, owners have been handed their belongings which were stored on different floors of the 23-stoery FR Tower.
Talking with The Daily Star, Sazzatul Islam, a staff of Fryyay Restaurant housed at the building, said they started the business two months back. It is owned by five students of a private university.
"The business was growing but suddenly this happened," Sazzatul said, adding that though their restaurant was safe from fire, they don't know where they will shift now.
Staffers of DIRD Group, which had offices on the third, 12th, 13th, 16th, and 19th floors of FR Tower, were also seen moving their goods.
"Our export is now closed after the fire incident. We are now shifting the goods to our factories in Savar and Gazipur so that we can set up our office there," said Golam Mostafa Warish, an official of the DIRD Group's marketing department.
Visiting the spot yesterday, it was seen that the broken pieces of glasses were often falling down on the road. So the authorities have put up sheds on both sides of the building to avoid any accident.