Now in 'cop custody', now found dead
Families claim plainclothes men picked up the 4 victims from home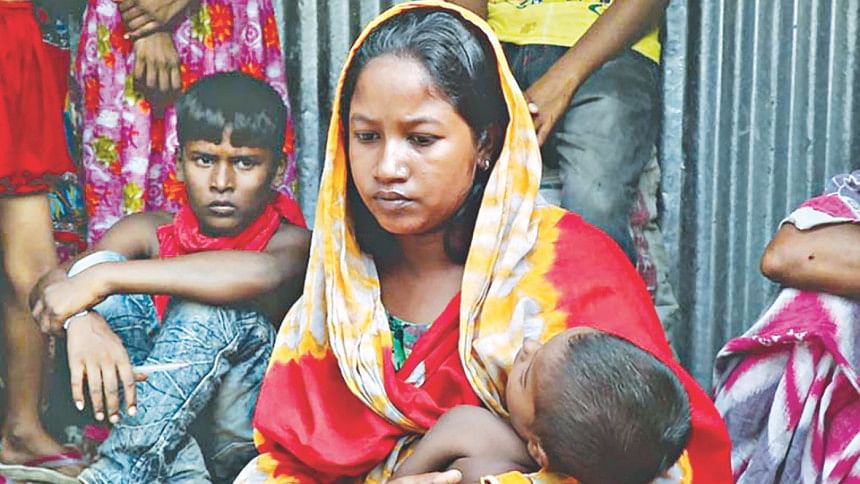 Taslima Begum, wife of one of the four found shot dead in Narayanganj, claimed that her husband Faruk Hossain was in the district's Bhulta Police Camp where she had even given him juice, water and a piece of cake on Saturday night.
The next morning, four bodies, including Faruk's, were found. Police, however, maintain that they never picked up any of them.
Contradicting this claim, Taslima said that around noon on Saturday a bus owner, whose name she did not disclose, informed her that Faruk was at the camp.
After she went there, police did not allow her to talk to her husband. "When I wanted to talk to him, the police asked me what I wanted to talk about and that they would shoot if we tried to talk," Taslima told The Daily Star yesterday.
"I begged them to let me buy Faruk something to eat and they finally allowed it. I bought cake, and bottles of water and juice around 9:30pm which he took in front of the police. He then asked me to go back home saying nothing will happen to him since he is not accused in any case."
According to her, she went to visit him again the next morning but found nobody there. Worried, she asked a man about Faruk and was told that police had taken five people out of the camp around 3:00am saying they would be taken to court.
Police then told that there was nobody named Faruk in the camp. Hearing this, she burst into tears. That is when a woman there informed her of four bodies which were lying on the road at Panchrukhi.
 "As I showed her [the woman] the pictures of my husband in my mobile, she confirmed that he was one of the dead," Taslima said while talking with our Narayanganj correspondent at her sister's residence in Bhulta's Balikha area yesterday.
Inspector Rafiqul Haque of Bhulta Police camp, however, said the allegations were not true. "We have a shortage of space. Besides, many people came to the camp on Saturday as a murder took place in the area. How would I keep them inside?" he said. 
Faruk's body, along with those of his friends -- Sabuj and Jahirul -- and one Lutfor Molla, said to be a microbus driver from the capital's Rampura Power House area, were found in Panchrukhi Paschim Para of Araihazar upazila on Sunday morning. They all bore bullet wounds in the back of their heads from a shotgun fired at close range, according to autopsy reports.
According to Taslima, some plainclothes men had picked up Faruk and his friends -- Jahirul, Sabuj and Liton -- on Friday evening from their Purinda home in Pabna's Araihazar.
The three were cousins who came to visit Faruk from their home in Dharmagram in Pabna Sadar upazila on October 15, said their family members and relatives.
Additionally, none of them had any prior cases against them, a fact confirmed by the police.
She alleged that the plainclothes man entered their two-room residence just before Magrib prayers on Friday and handcuffed her husband, adding they assaulted her and threatened to shoot her as she pleaded for his release.
They later blindfolded the four and dragged them out.
Later she informed the matter to Mofizul Islam, owner of Glory Paribahan company where Faruk was a driver.   
Mofizul went to the police camp with her on her request to release Faruk, she claimed.
Contacted, Mofizul yesterday said he went there, but did not see Faruk in the camp. He added that Faruk had stopped driving his bus two months back.
Meanwhile, Jahirul, Faruk and Sabuj were buried at Dharmagram graveyard in Pabna Sadar yesterday morning, reports our Pabna correspondent, while Liton remains traceless.