Noakhali Hospital: Nine injured in ceiling fall
5 of them patients; the govt health facility was declared abandoned 3yrs ago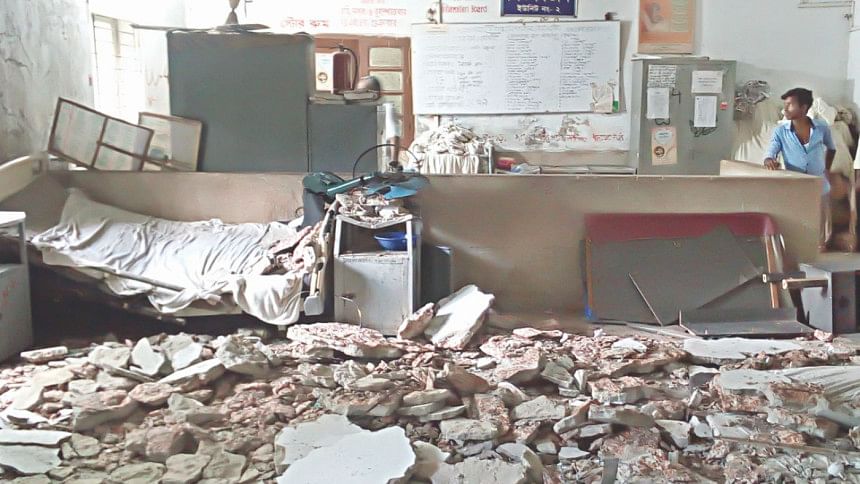 Nine people, including five children, were injured after a part of the ceiling broke off and fell on them in the children's ward of Noakhali General Hospital yesterday morning.
According to witnesses, a part of the ceiling suddenly collapsed with a crashing sound around 7:00am, instantly injuring the nine.
The five injured children were patients at the ward. The other four people injured were their attendees. They were taken to another ward of the hospital to receive treatment for their injuries, said Syed Mohiuddin Abdul Azim, Resident Medical Officer of the hospital. 
The injured are Rafi, 2, Md Ismail, 5, Imam Uddin, 5, Sumaiya, 12, Md Rasel 16, Md Ibrahim, 50, Parul Begum, 47, Badsha, 35 and Rozina Begum, 20.
On information, fire fighters rushed to the scene and evacuated everyone else from the ward, local fire station officer Mohammad Humayun said.
After the incident, panic gripped the patients and their attendees. Many attendees were seen leaving the hospital with the children they were attending.
Constructed in 1968, the hospital, including its children's ward, was declared abandoned three years ago, the hospital Superintendent Dr Mohammad Khalil Ullah said.
All three buildings of the hospital are in risky conditions, but patients continue to receive treatment there due to a lack of alternative space, hospital sources said.
Upon request of the district Deputy Commissioner Tonoy Das, the hospital authorities have sealed off the affected building and relocated their patients to another one.
A similar incident occurred last year when a part of the ceiling of another building of the hospital had collapsed, injuring two nurses.