Minni placed on 5-day remand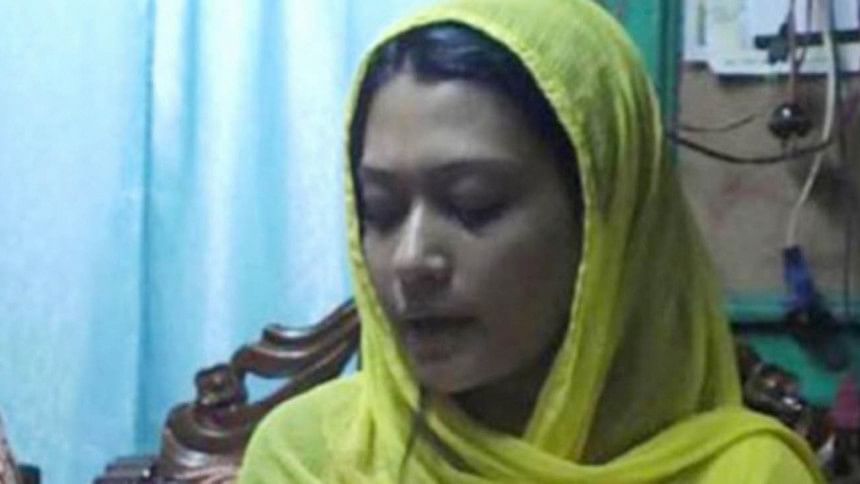 A Barguna court yesterday granted police five days to question Aysha Siddiqa Minni in remand over the murder of her husband Rifat Sharif.
The first-year student of Barguna Government Degree College was produced before the court of Senior Judicial Magistrate Sirajul Islam Gazi around 3:00pm, said Md Humayun Kabir, the investigation officer (IO) of the case.
"We sought a seven day remand. We hope that many more important information will come out in remand," said the officer-in-charge of Barguna Police Station.
 Minni is the key witness of the murder that took place in front of her college on June 26. Rifat Sharif, a 25-year-old internet service provider, was indiscriminately hacked by a group of youths there.
 In a video footage of the incident that went viral in the social media, Minni was seen screaming and trying in vain to save her husband from the assailants.
On Tuesday morning, Barguna police took Minni and her father Md Mozammel Hossain Kishor to the police lines to record Minni's statement, but arrested Minni around 9:00pm.
"We have found Minni's involvement in the murder after interrogating her," Maruf Hossain, superintendent of Barguna police, said at a press conference that very night.
Mozammel said his daughter had fallen ill as police abused her mentally throughout the 11-hour long interrogation. "It is unfortunate that police have turned her into a perpetrator whereas she is the witness. She tried to save her husband," he told this paper.
He submitted a bail petition to the court yesterday claiming that his daughter was unwell but got turned down.
IO Humayun brushed off Mozammel's claim. "We arrested her because we found her involvement in the murder," he said.
Five days ago, Abdul Halim Dulal Sharif, father of Rifat and plaintiff of the case, demanded immediate arrest of Minni alleging that she had a hand in the murder.
He claimed that Minni had married Sabbir Hossain Nayan alias Nayan Bond, one of the killers, before she tied the knot with his son. Her family had kept the matter a secret, Halim had told a press conference.
In response to that, Minni said propaganda was being spread by a certain group to hide the real killers.
 "Whatever my father-in-law has said is false and baseless. My father-in-law is suffering from dementia," Minni said while addressing a press conference at her father's house in Nowakata village of Barguna Sadar upazila on Sunday.
 Rifat's father had started the case against 12 people the very day his son died.
 Ten out of 13 arrested in the case so far have given confessional statements. They are: Rabbi, Oli, Tanvir, Chandan, Hasan, Sagor, Najmul, Tiktok Redoy, Ratul, and Saimon.
 Three accused -- Rifat Farazi, Rabbi Akon, and Arian Shrabon -- are currently facing remands of different durations.
 The prime accused of the case, Nayan, was killed in a reported gunfight with police in Barguna Sadar on July 2.
 Five FIR named accused: Risan Farazi, 20, Md Musa, Mohaiminul Islam Sifat,19, Rayhan, 19, and Md Hasan, 19 are on the run.