Laminated posters not removed in the capital
HC ordered their removal last week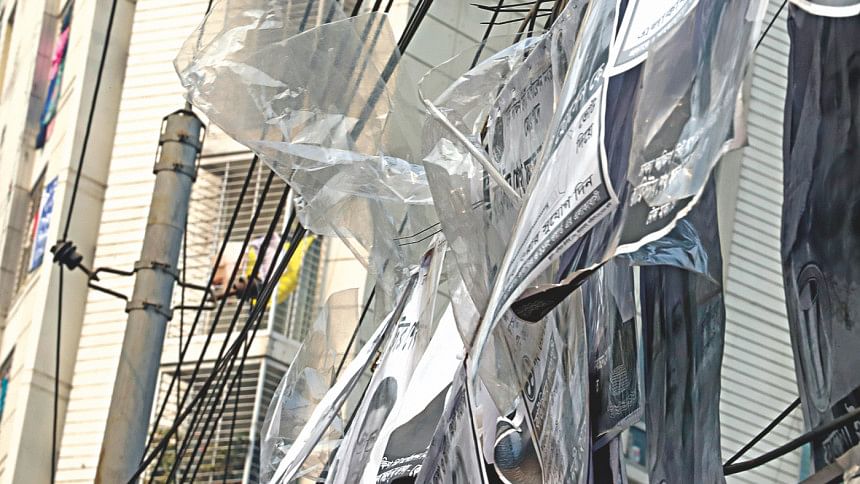 Even after the High Court order to immediately stop production and use of laminated city polls campaign posters, they are still seen across the capital.
Several councillor candidates said they laminated the posters with plastic to save them from being damaged.
However, environmen-talists say such posters pose a serious threat to the environment.  
Visiting different wards in Dhaka north and south city corporations within this week, it was found that no laminated posters were taken down.
In their disclosure of election expenditures, 140 mayor and councillor candidates of 745 mentioned that they would print nearly 50 lakh posters.
DNCC
Mofizur Rahman, an Awami League-backed councillor candidate for ward-19 under Gulshan Police Station, who is running for re-election, said he printed 50,000 posters and 10,000 of them were laminated.
"I'll remove all the laminated posters by this [yesterday] evening. The process is underway," he said while talking to this correspondent.      
Jahangir Mollah, a BNP-supported contender for ward-38 under Badda Police Station, said he printed several thousand posters and 4,000 of them were laminated.
Most of them were torn by supporters of his rival AL candidate, he alleged.
He added that he would remove the remaining laminated posters soon.
DSCC
Shafiqul Islam Shamim, the incumbent councillor of ward-72 under Mugda Police Station, said he was contesting for the second time.
Shafiqul, who is backed by AL, said he already printed 5,000 posters and there were 1,000 laminated posters among them. 
"I will take down the laminated posters and put up non-laminated ones by tomorrow [Tuesday]," he said.
Md Ahsanullah, a BNP-supported councillor contender for ward-64 under Jatrabari Police Station, he printed several thousand laminated posters.
He added that after the High Court, he did not print new laminated posters. 
This correspondent could not communicate with any of the mayor candidates for DSCC and DNCC for comments.
HC ORDER
On January 22, the High Court ordered the authorities to immediately stop production and use of laminated city polls campaign posters to save the environment.
The court also issued a rule asking the respondents to explain in four weeks why they should not be directed to stop production and display of laminated posters across the country.
Secretaries to the ministries of environment and forest, LGRD and health, Election Commission and the chief executive officers of Dhaka north and south city corporations have been made respondents to the rule.
The HC issued a suo moto move following a report published in The Daily Star under the headline "Laminated posters in city polls: A big threat to the environment".
Khandker Millatul Islam, DSCC additional chief waste management officer, yesterday said, "If the magistrate of the Election Commission or the environment department take down the laminated posters, then our cleaners can take them to Matuail landfill to dump them there."
"As burning plastic is detrimental to health, we will bury the posters there," he said.
He added that the city corporation did not have any jurisdiction to take down the posters unless the election was over.
On January 20,Mollik Anwar Hossain, additional director general of the environment department,said, "Since the polls are being held under the EC, we are not able to take actions without permission from it."
The Daily Star yesterday could not contact any of the EC officials for comments.
Election Commissioner Rafiqul Islam had earlier said he personally did not encourage the use of plastic and polythene.
Regarding the laminated posters, he said, "There is no legal binding in the EC rules. The environment department can take action as per its law. The EC will not interfere."