Fake Notes Before Eid Syndicates active again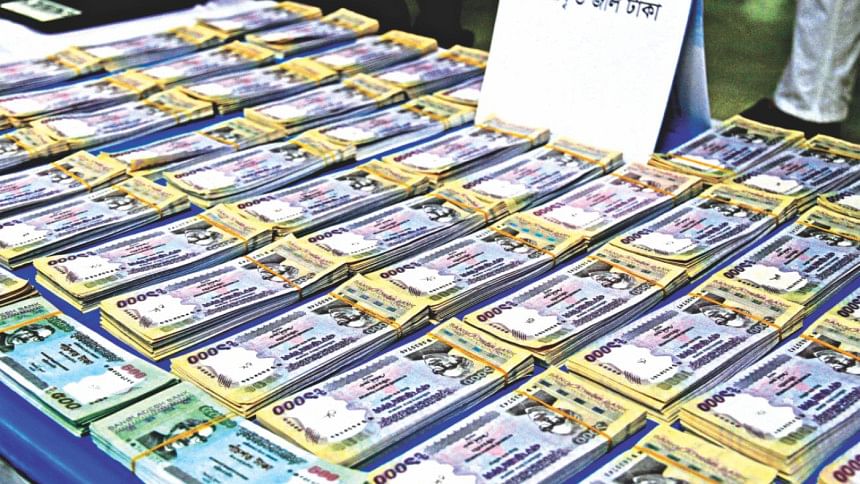 Once again, ahead of Eid-ul-Azha when huge sales of sacrificial animals take place across the country, counterfeit note forgery syndicates have targeted the cattle markets like they do every year.
This year, along with divisional cities, members of such syndicate members have planned to spread counterfeit notes in North Bengal and especially in the border districts, as these areas are largely not equipped with adequate monitoring systems to detect forged banknotes, said law enforcement officials.
Following arrests of several members of such syndicates from different districts in the last few weeks, law enforcers claimed to have learned about these illegal schemes.
"We have learned about the activities of around a dozen note forgery gangs and they remain active in spreading counterfeit notes ahead of Eid. Some of these members remain under our surveillance and we are hopeful of arresting them soon," Mashiur Rahman, deputy commissioner of the police's Detective Branch, told The Daily Star recently.
Around 14 counterfeit note forgery syndicates remain active in these districts, with each syndicate having around eight to 10 members. The syndicates are now also involving women to evade law enforcement, he further said.
"Most of their ringleaders have been arrested earlier but go back to the crime after getting bail."
On June 23, Nilphamari district police arrested five members of a note forgery syndicate -- the first such arrest in the district in the last five years.
During interrogation, the arrestees told the police they were visiting various border districts and North Bengal to spread counterfeit notes ahead of Eid-ul-Azha due to their lax monitoring systems.
Mohammed Mokhlesur Rahman, superintendent of police in Nilphamari, told The Daily Star that they learnt from the arrestees that note forgery syndicates are targeting North Bengal and the border districts to spread counterfeit notes. But the police remain alert and increased vigilance to detect these crimes, he said.
"We have also got some syndicate members' identities but they went into hiding after the arrests of their associates. We are now conducting drives to arrest them," he said.
According to a source in Police Headquarters, around 7,203 cases were filed regarding arrests and recovery of counterfeit notes across the country in the last 19 years.
A high-placed police official said the majority of these cases were filed in Dhaka, Chattogram, Barishal, Feni, Bogura, and Meherpur districts. This year is the first time that the activities of note forging syndicates were witnessed in North Bengal.
Metropolitan Public Prosecutor Abdullah Abu told The Daily Star they tried their best to prove these note forgery cases when they reach the courts, in order to ensure punishment.
"The convocation rate of these cases is around 80 percent," he added.
A lawyer of a Dhaka court told this newspaper that the police mainly brought charges against note forger syndicates under sections 420, 468, 469, and 471 of the Penal Code. For these charges, the accused may get sentenced to imprisonment for life or with imprisonment of either three or seven years for a term which may extend up to ten years, he said.
"But, courts generally award seven years of imprisonment in note forgery cases," he added.
In jail, a year's term ends in nine months, meaning the arrestees usually get released within five years and return to their previous profession, said police officials.
Meanwhile, syndicate members were found to be adopting new techniques to make counterfeit notes avoiding detection.
On June 29, Rapid Action Battalion arrested six members -- including two women -- of a note forgery syndicate from Bashundhara in the capital. Rab recovered around Tk 4 crores worth of counterfeit notes, around Rs 40 lakh worth of counterfeit Indian currency, and materials to prepare around Tk 25 - 30 crore more counterfeit notes.
Rab said the arrestees used to boil original Tk 100 banknotes in water and once the colour was washed away, print the colour of the Tk 500 note on the paper. This is why the paper and security measures on the counterfeit notes were the same as the original banknotes.
The syndicate's plan was to spread the counterfeit notes in the market ahead of Eid and cattle market.
Police and Rab officials said due to these new techniques and expenses taken to prepare counterfeit notes, the price for Tk 1 lakh worth of counterfeit notes went up by three times from that last year.
Last year, counterfeit note syndicate members used to sell Tk 1 lakh worth of counterfeit notes for only Tk 8,000 - 10,000 but are now selling the same for Tk 30,000 - 40,000.
DB DC Mashiur Rahman said that they have learned of the higher price of counterfeit notes and the new techniques used. "We have already increased vigilance to detect their [the syndicates'] hideouts."