Ershad laid to rest in Rangpur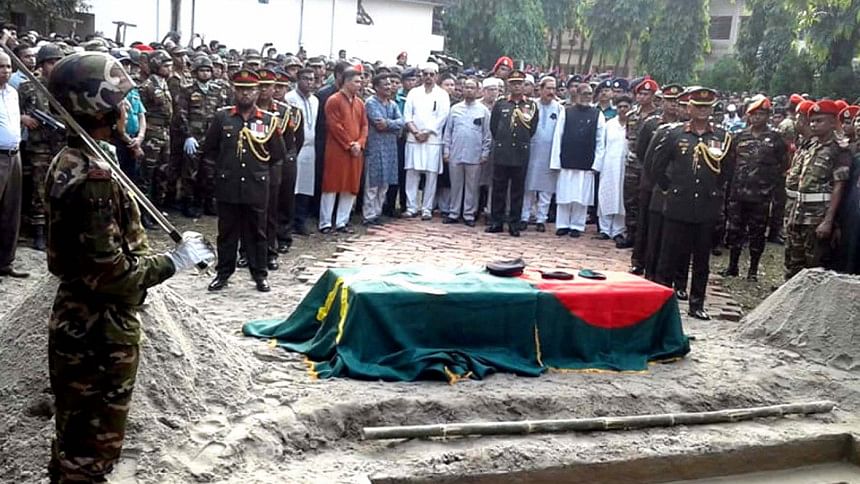 Ershad was laid to rest at his hometown in Rangpur yesterday following a fourth funeral prayer.
He was buried at his home in Darshana area of Rangpur city after local Jatiya Party leaders and activists demanded that he be buried in his hometown.
The demand came after the fourth namaz-e-janaza held at the Central Eidgah Moydan in Rangpur town where hundreds of people from Rangpur, Gaibandha, Kurigram, Lalmonirhat and Dinajpur gathered. 
JP leader Titas Mostafa said after the prayers that ended around 2:30pm, Ershad's brother GM Quader told the gathering that Ershad would be buried at Banani military graveyard as per the decision of JP central leaders. 
But the crowd outright rejected it and started chanting slogan demanding Ershad's burial in Rangpur, Titas added. 
Later, Mostafizar Rahman Mostafa, mayor of Rangpur City Corporation and presidium member of JP told the gathering that people of Rangpur would not allow to take the body back to Dhaka. 
The mayor then got in the vehicle and drove it to Ershad's home Palli Nibash.
The funeral that ended around 6:05pm was conducted by the army officials from Rangpur Cantonment.
Earlier, the helicopter carrying Ersad's body landed at Rangpur Cantonment around 11:50am. 
Jatiya Party acting Chairman GM Guader, Secretary General Moshiur Rahman Ranga, former Secretary General Ruhul Amin Hawlader and Ershad's son Rahgir Al Mahi Shad Ershad, among others, accompanied the body. 
Rangpur city wore a mourning look since the morning. 
Black flags were seen hoisted around the city and the shops were remained shut till 4:00pm.