Rangpur-3 by polls: Saad Ershad collects JP nomination form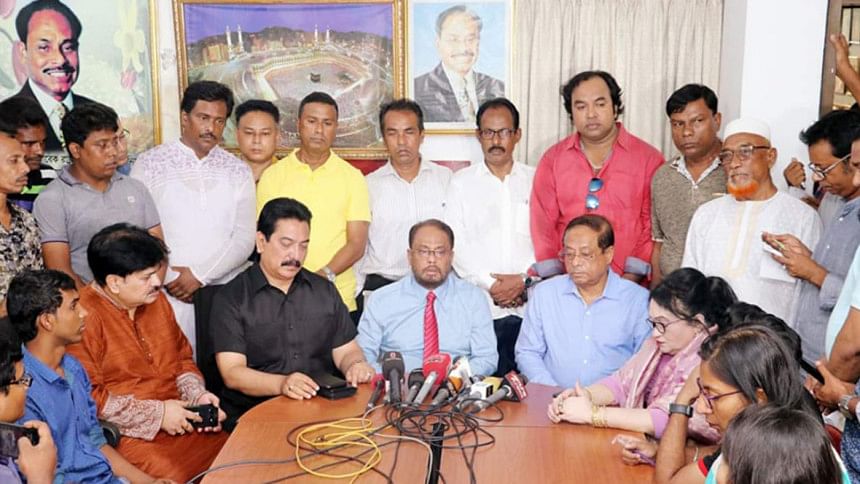 Rahgir Al Mahi alias Saad Ershad, the eldest son of late Jatiya Party Chairman HM Ershad, today bought the party's nomination form to contest the Rangpur-3 by-polls that fell vacant following his father's death.
Saad, flanked by some party senior leaders, collected the nomination form from Jatiya Party chairman's Banani office this noon.
With Saad, a total of four aspirants have so far collected the nomination form to contest the Rangpur-3 by-election scheduled to be held on October 5.
According to the election schedule announced by the Election Commission, the deadline for the submission of nomination papers is September 9.
The date for scrutinising the nomination papers is September 11 and the last date for withdrawal of candidature is September 16.
Earlier, Jatiya Party presidium member Fakhar-uz-Zaman Jahangir, its joint general secretary and Rangpur city unit general secretary SM Yasir, executive committee member and Ershad's niece Mehejebunnesa Rahman Tumpa collected the party nomination form to contest the by-polls.
SM Yasir collected party nomination paper taking Ershad's another son Eric Ershad with him, sparking criticism by a section of party leaders.
The party's nomination seekers will have to submit their nomination forms by 5:00pm on Thursday next.
Later, a party nomination board, headed by its chairman GM Quader, will finalise the candidate after interviewing the aspirants on September 6.
While talking to reporters at the party's Banani office, Quader termed Rangpur-3 constituency is a vote bank of the JP expressing hope that leaders, activists and supporters of his party will work unitedly for the victory of the party nominated candidate in the election.
Responding to a query over, he said there is no difference or feud in the party, but if anyone breaches the party rule of discipline, the party will take action accordingly.
The JP will select the leader of the opposition party in the parliament before the next session of the national parliament, Quader told a questioner.