Dengue Menace: Children hit hardest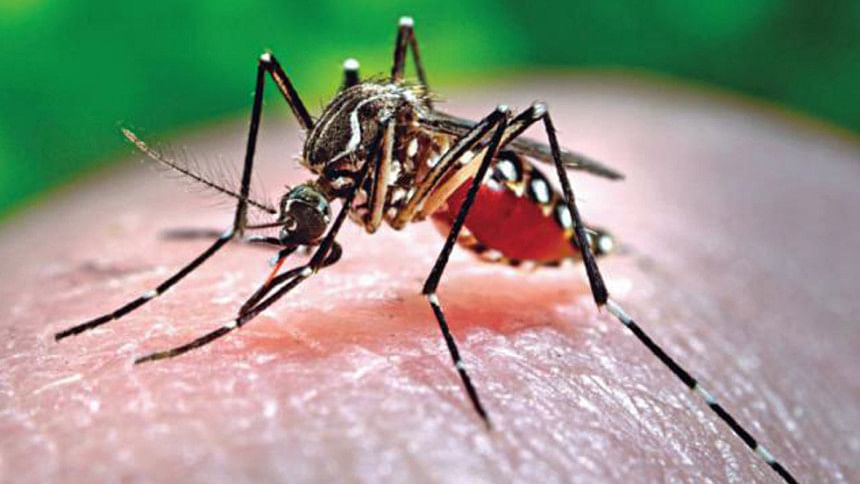 As the number of dengue cases was going up in the capital, Mamtaz Begum, mother of an eight-month old baby, was on alert. She would always keep her daughter Shafa under mosquito nets at night.
But still, Shafa was infected with dengue virus.
Talking to The Daily Star at a ward of Dhaka Shishu Hospital, where the baby was being treated, on Thursday, the mother said she had absolutely no idea that Aedes aegypti, the carrier of the virus, bites during daytime, especially during the early morning and afternoon.
"I admitted my baby here on Saturday [October 6] as she had fever along with vomiting and diarrhoea for the previous five days," said Momtaz, a housewife from Shyamali's Adabar area.
The number of dengue cases has recently been on the rise due to various reasons, including a lack of awareness, and doctors say most of this year's dengue patients are children as their immune system is weak compared to adults.
Directorate General of Health Services (DGHS) data shows, 7,183 people have been infected with the virus between January 1 and October 11, and 17 of them died.
It's a record for the number of dengue cases in a year. The previous highest was 6,232 in 2002.
DGHS officials could not say how many of this year's dengue patients were children.
According to data from Dhaka Shishu Hospital, 450 children with dengue fever were admitted to the hospital between July 1 and October 11 and six of them passed away.
Prof Abdul Aziz, director of the hospital, said this year the number of child dengue patients has been high. Apart from having a weaker immune system, many children also can't kill mosquitoes when they try to bite, he said.
Usually, Aedes mosquitoes bite during the daytime and children are easily bitten when they sleep, he added.
Many of the dengue patients experienced dengue shock syndrome leading to a drop in platelet counts, Aziz said.
Dengue shock syndrome is caused by dengue virus that tends to affect children under 10, causing abdominal pain, haemorrhage (bleeding) and circulatory collapse (shock).
Six children died at the hospital as they were brought late, Aziz said.
This year, dengue has also struck the nearby districts of Dhaka, including   Manikganj, Gazipur, Tangail and Munshiganj, he said, adding they were getting patients from other districts as well.
Dengue patients suffer from high fever (102 degrees to 105 degrees) along with vomiting, abdominal pain or some other symptoms. A child dengue patient also suffers loss of appetite.
DGHS officials stressed on raising awareness to lower the number of dengue cases.
"Every family needs to be extremely careful as Aedes breeds in clean water. Mosquito sprays have to be applied on a regular basis," Aziz said, adding children with dengue fever symptoms must be taken to hospital as early as possible and provided with adequate liquid food.
On Thursday, 41 patients were admitted to the Shishu Hospital while 65 percent of the dengue patients came from Mirpur, said Kinkar Ghosh, an epidemiologist there.
He said a dengue cell had been formed in the hospital comprising 12 professors. A dengue patient gets 24-hour medical facilities here, he added.
Contacted, Dhaka South City Corporation Mayor Sayeed Khokon said they had started their drive against Aedes mosquitoes early this year and destroyed around 50,000 "risky" containers from different households across DSCC areas.
"We gave our best to control the Aedes mosquito and will continue the drive," he said, adding their drive included running awareness campaigns.
The pattern of dengue virus this year has been a little different from the previous years and that they were trying to know more about it from the experts, he said.
Dewan Abdul Mannan, a councillor at Dhaka North City Corporation and also the chief of a "standing committee" on mosquito control, said they were continuing similar awareness campaigns in DNCC areas.