Deadline not to be set?
No progress on building temporary sheds for storing old town chemicals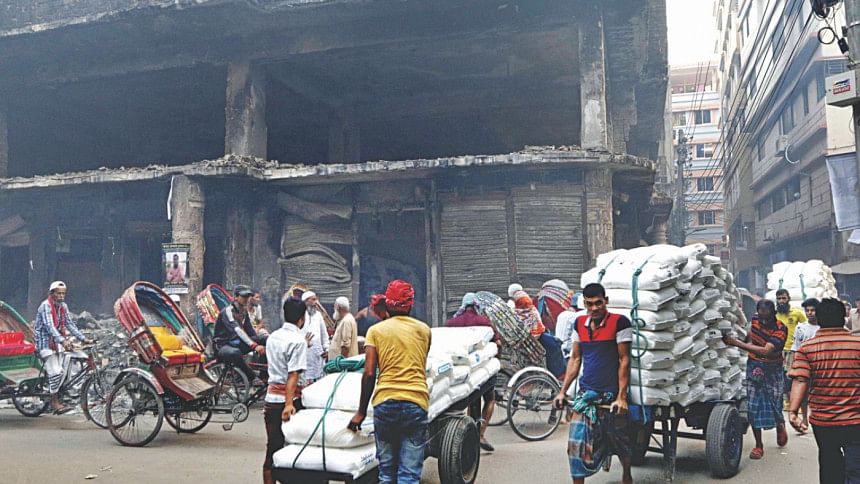 Building of two temporary sheds to store chemicals from Old Dhaka is facing delays as approval from the planning commission and opinions of experts are required, a top official of industries ministry has said.
"I hope we can start construction work at the end of this month as the industries ministry has been working to send two project proposals to the planning commission for its approval," Md Abdul Halim, secretary to the industries ministry told The Daily Star over phone recently.
One of the sheds would be in Tongi and the other in Postagola area.
After the Chawkbazar fire tragedy, Halim at a press conference on February 27 at the industries ministry said the ministry could start construction work of two temporary sheds within 15 days.
After the 15 days had gone by, he said the ministry could not start the construction work and it has been in talks with experts for their opinions.
The secretary, however, said the ministry would not follow the conventional bidding process to purchase materials for construction as it was an emergency and they need the sheds built fast.
After the Chawkbazar tragedy, in which 70 people were killed, the industries ministry said it would facilitate businessmen to store chemicals and acid in two temporary sheds, one in Tongi and another in Kadamtoli. 
The industries ministry would start relocating nearly 4,000 chemical warehouses and factories from Old Dhaka. The decision was made at a meeting between the industries secretary and acid and chemical traders at the ministry office on February 27.
Different quarters have been critical of the delay in the relocation as nine years have passed since the Nimtoli tragedy in which 124 lives were lost.
The government at that time had instructed moving the warehouses.
"We have found six acres of land in Gazipur's Tongi and 6.17 acres in Postogola area," Halim had said on February 27.
The site in Tongi is empty and owned by state-run Bangladesh Steel and Engineering Corporation. The land in Postogola was previously owned by state-run Ujala Match Factory and is now unused, the secretary had said.
Meanwhile, a taskforce of the Dhaka South City Corporation (DSCC) has been conducting drives to remove warehouses with "dangerous chemicals" from Old Dhaka, including Chawkbazar.
Balayet Hossain, chairman of the standing committee on chemicals and industries at the Federation of Bangladesh Chambers of Commerce and Industry, said since the temporary sheds were not ready, the traders have been storing chemicals in different areas of Dhaka, like Keraniganj, Shyampur, Demra, Savar, Basila, Jatrabari, and Badda.
Some have also moved chemicals to Gazipur, he said.