Crimes against Humanity: Myanmar continues to act with impunity
Int'l communities' inertia to blame, says UK's All-Party Parliamentary Group on Rohingya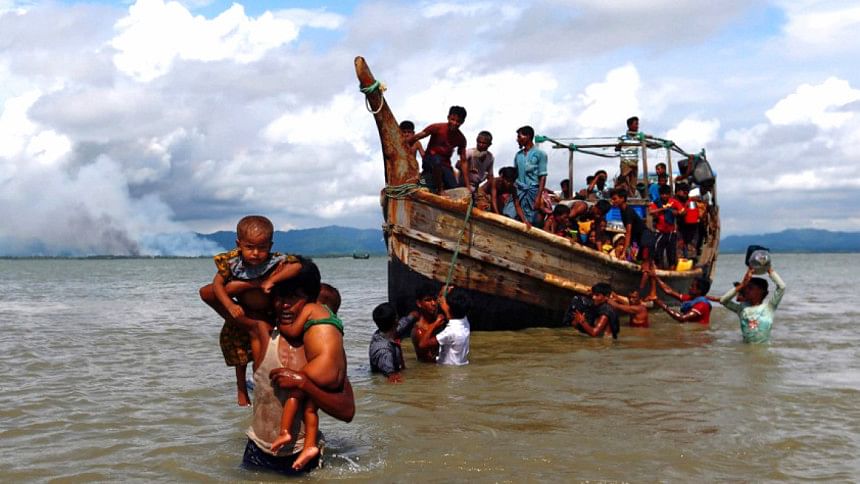 Inertia at the international level has removed pressure on Myanmar and its allies and enabled impunity despite the country's military being accused of crimes against humanity and genocide, said UK's All-Party Parliamentary Group on the rights of the Rohingya in a report published on Tuesday.
"Despite the widespread recognition that crimes, possibly amounting to crimes against humanity and genocide, were committed, the Myanmar military are yet to experience meaningful consequences either criminally or politically," it said.
Myanmar is not only unable and unwilling to investigate and prosecute international crimes, the international community are enabling them to continue to act with impunity. Members of the UN Security Council are blocking routes to international justice and enabling barriers, the report said.
The report titled A New Shape of Catastrophe was published two years after the Myanmar military crackdown in Rakhine that caused an influx of over 743,000 Rohingyas to Bangladesh.
The All-Party Parliamentary Group (APPG), chaired by Anne Main MP and co-chaired by Rushanara Ali MP, has called for the UK, as penholder on Myanmar at the Security Council, to lead on a Chapter VII UN Security Council resolution, setting out current conditions and the need for referral to the International Criminal Court (ICC).
Referring Myanmar's case to the ICC is the only way that the entirety of crimes that have been committed would come under ICC jurisdiction, the report said. 
While the ICC has commenced a pre-examination of crimes related to deportation of the Rohingya now in Bangladesh, this work would be limited in scope and likely fail to address the full range of violations and atrocities, AAPG report observed.
The report said raising the situation at the Security Council could help to change Myanmar government's political calculations as well as isolate and raise the political cost on China, Russia, and other countries that would prefer the status quo of Council inaction on the situation.
"The UK government should impose and expand targeted sanctions on military leaders, including Commander-in-Chief Sr Gen Min Aung Hlaing, and key military-owned enterprises, and impose a comprehensive arms embargo on Myanmar. 
"The UK government should influence the Security Council to impose such sanctions," it said.
"Without justice, recognition of their rights and citizenship, the Rohingya population will remain in limbo refugees in Bangladesh and across the region," said Rushanara Ali in a statement.
ENTIRE ROHINGYA VILLAGES DEMOLISHED IN MYANMAR
In a recent visit, BBC Southeast Asia Correspondent Jonathan Head saw four locations in Rakhine where secure facilities have been built on what satellite images show were once Rohingya settlements.
One of the locations include Hla Poe Kaung transit camp, which Myanmar government says can house 25,000 returnees. The camp was built on the site of two Rohingya villages, Haw Ri Tu Lar and Thar Zay Kone, demolished after the 2017 violence, reported BBC on Tuesday.
Another Rohingya village called Myar Zin was bulldozed to clear land for this camp. Speaking off-camera, officials there confirmed to BBC of the demolition.
Just outside the main town, Maungdaw, was Myo Thu Gyi, which once had a population of more than 8,000 Rohingyas. In September 2017, BBC filmed Myo Thu Gyi where many of the houses had been burned, but larger buildings were still intact. But now, there is a large government and police complex.
About three quarters of the population was Muslims in Inn Din, a village notorious for a massacre of 10 captured Muslim men in September 2017. The rest were Buddhists. Today, no trace of the Muslim quarter remains, reported BBC.
The houses, where Muslims used to live, were replaced by barbed-wire fences enclosing an extensive new Border Guard Police barracks. The Rakhine Buddhist residents told BBC they would never accept Muslims living next to them again.