Crashes On Highways: 19 killed in three dists
The number of deaths in road accidents is getting larger as 19 more people, including three of a family, were killed and 59 others injured in road crashes in Chattogram, Madaripur and Jashore yesterday.
Last week, the country saw student demonstrations for safe road. The death of a university student, Abrar Ahmed Chowdhury, in a road accident in the capital had triggered the protest.
Yesterday, a Cox's Bazar-bound bus collided head-on with a microbus on the Chattogram-Cox's Bazar highway at Chunati in Lohagara upazila around 1:00am. Eight people were killed and 10 injured, reports a staff correspondent from Chattogram.
The dead are microbus passengers Taslima, 20, her daughter Sadiya, 2, other Hasina Momtaz, 45, Abdus Shukur, 28, Afzal Hossain Sohel, 30, Abu Sayem, 22, and microbus driver Nurul Huda. The identity of the other could not be confirmed, said Mizanur Rahman, officer-in-charge of Dohazari Highway Police Station.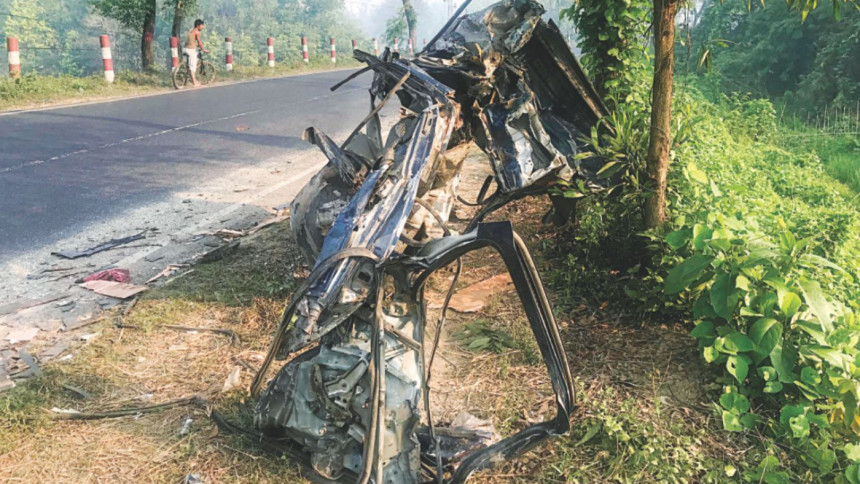 Sayem's cousin Ataur Rahman, 22, was undergoing treatment at Chattogram Medical College Hospital. The two were returning home after attending a marriage ceremony in Chakaria upazila.
"I don't know how the accident took place … I discovered myself in a roadside field after the accident and found Sayem dead on the spot," said Ataur, adding that there were 13 passengers in the microbus.
In Madaripur, a bus veered off the Dhaka-Barishal highway and fell into a roadside ditch at Kalabari in Sadar upazila around 12:30pm, killing eight people and injuring 30 others, reports our Faridpur correspondent.
The deceased are Habib Hawlader, 50, Sajib Hawlader, 15, Ambia Begum, 60, Hasia Begum, 50, Ranu Begum, 55, Nayan Hawlader, 30, Abbas Khan, 32, and Sayem, 25, of Kalkini upazila in the district.
Quoting locals, Md Kamruzzaman, assistant sub-inspector of Madaripur Sadar Police Station, said the accident happened when the Madaripur-bound bus returning from a religious programme at Chandrapar in Faridpur's Sadarpur upazila plunged into a roadside ditch while trying to avoid a collision with a truck.
Akhil Sarker, medical officer of Madaripur General Hospital, said four people died on the spot and the others on the way to the hospital.
At least 20 people were undergoing treatment at the hospital. Some others were shifted to Faridpur Medical College Hospital, he added.
Subrata Kumar Hawlader, superintendent of Madaripur police, said police and firefighters rushed to the spot and rescued the injured. Police seized the bus, but its driver fled.
Mahafuzar Rahman, officer-in-charge of Bhanga Highway Police Station, said some passengers alleged that the driver was talking over mobile phone at the wheel. 
After the accident, vehicular movement on the highway was halted for around three hours, he said.
In another incident, three people lost their lives and 19 others were wounded when a truck hit a human haulier, locally known as leguna, on the Jashore-Khulna highway at Chawlia in Jashore Sadar upazila around 11:00am, adds our Benapole correspondent.
The dead are Subrata Bairagi, 25, of Gabkhali village in Manirampur upazila, and Sushil Das, 26, of Kuda village in the upazila. The identity of the other could not be known immediately.
Deputy Commissioner of Jashore Abdul Awal said condition of two injured was critical. They would be shifted to other hospitals from Jashore General Hospital if their condition deteriorated.