Age-old craft under threat
Traditional instrument makers in Manikganj finding it hard to survive due to drop in sale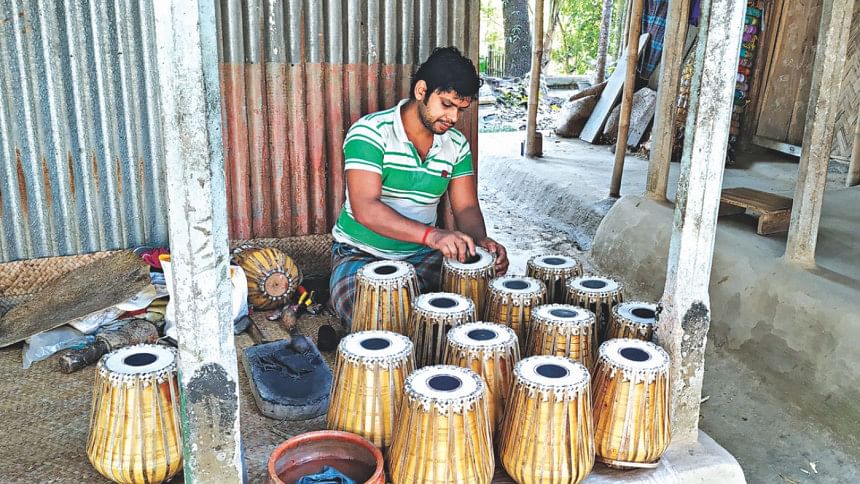 The art of making traditional musical instruments is slowly fading away due to rising production costs and growing popularity of modern instruments, say artisans in Manikganj.
The district, once-famed for housing families engaged in making instruments such as the Dhak, Dhol, Khol, Tabla, Khamak, Dugdugi, Khanjjani, Baya and Ektara, is slowly composing its swansong.
The handmade pieces, mostly made at Baliakhora Rishipara of Ghior upazila, Puran Goaria and Dhankora of Saturia upazila, Garpara of Sadar upazila, Shimulia and Basail of Shibalaya upazila, Zionpur of Daulatpur upazila and Kalai village of Harirampur upazila, are becoming harder to find.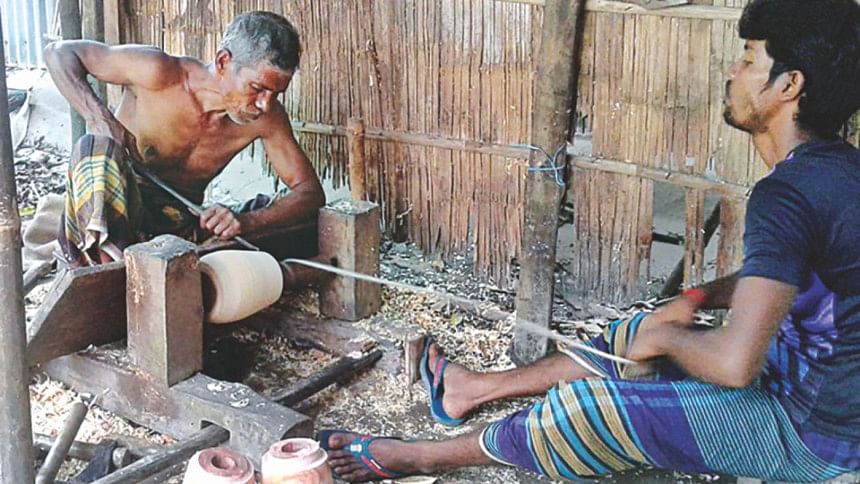 The rising prices of transportation and raw materials -- mango trees, neem, renti-karai, shishu and mahogany, goat and buffalo skins, earthen pots, and steel frames -- is a major cause of the decline in the craft.
As costs rise, profits also fall, deterring prospective artisans.
Almost a decade ago, each household made a profit of about Tk 15,000 a month, say artisans. Now, they barely make ends meet.
Nokul Das, an artisan in Baliakhora Rishipara, said, "We five brothers have learned instrument making from our late father Khagen Das. And we all work together."
Their pieces make it to shops at Shankhari Bazar, Rampura, Farmgate, Malibagh and Science Laboratory areas in Dhaka, said the 60-year-old man.
"We receive orders from the shop owners and produce accordingly. Wholesale buyers from across the country also come to us to place orders. But the volume of orders is far less than before."
The use of modern instruments has replaced the use of traditional instruments. "If this continues, it will be difficult to survive with our family members," he added.
Artisan Raj Kumar said demand for different types of musical instruments made at Rishipara slightly increases before Puja.
Meanwhile, Kamal Das, 60, of the same area, said he was trained in the trade by his late father Khokaram Chandra Das. He has been in this profession for 40 years. His son Raj Kumar Das, along with his wife and other members of the family, has followed in his footsteps.
But Kamal's family is a rarity.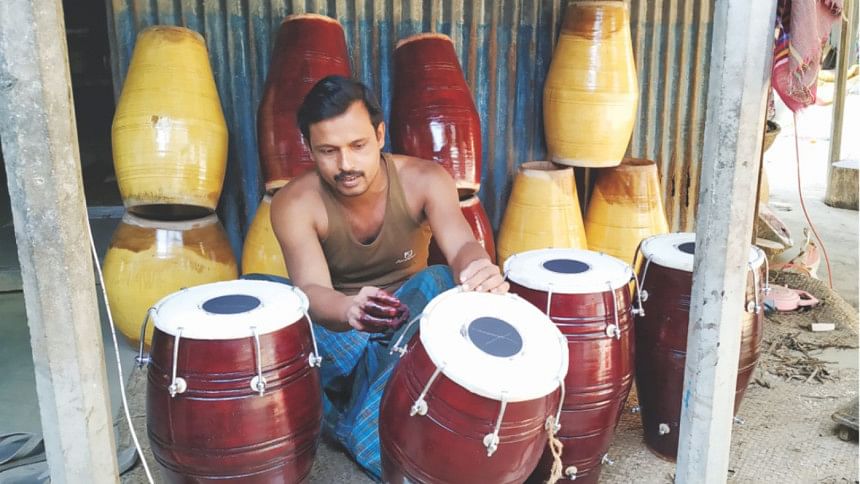 Once, 25 families in Rishipara were involved in making these instruments. Now there are only six, he said.
Artisans are forced to leave this profession for financial losses; some remain in it out of passion, he said.
Another artisan Shankar Das cannot work anymore due to old age, but his son Bital Das has picked up the mantle from Das.
However, his two other sons could not be motivated to learn the skills from him and they moved to Khulna and Chattogram in favour of higher paying jobs.
Chairman of Baliachura Union Parishad Abdul Awal Khan said the number of households involved in the craft had reduced substantially.
The government will have to take steps to preserve the art form that was a means of income for a large community, he added.