Goodbye, Indigo Lady
The passing away of Ruby Ghuznavi is a huge loss to Bangladesh's craft industry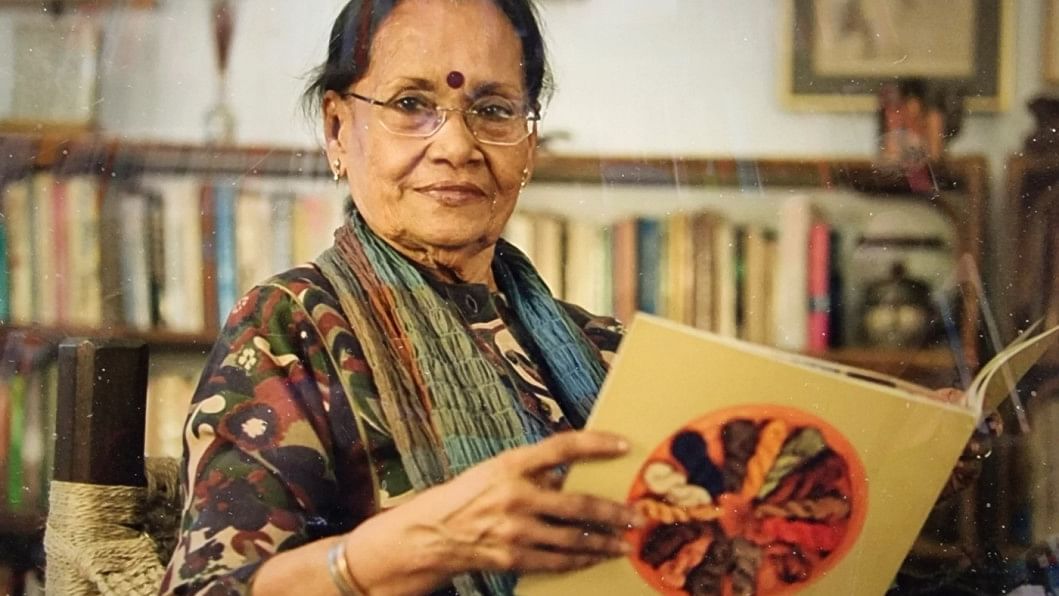 In 2013, when I was a novice in the field of crafts, I wanted to know more about muslin, Bengal's fabled fabric. Amongst the people I turned to was Ruby Ghuznavi (or Ruby Apa, as she was known), whom I met at her office of the AFMR Foundation, which she also ran.
My impression of a firm, steely resolved, no-nonsense, committed and highly articulate person never diminished over the next eight years. Over shingara, sandwiches and tea, she shared her writings on Jamdani, her knowledge of Bangladesh's craft industry and most importantly, her wide contacts within the country, India and the UK.
I would ask to meet her, and she would be always available with frank opinions on a weaver or a company director, about a factory or an institution – listening, encouraging and participating in every line of enquiry. When it was her turn to ask for our help to bring fine yarn into Bangladesh or help in starting high count weaving (which we were successfully doing) for the Jamdani Festival, we stepped forward, grateful that we had a small opportunity to pay back the huge knowledge debt we owed her.
She drove the project that brought recognition for Bangladesh from UNESCO, awarding the country its Intangible Cultural Heritage of Humanity in 2013 for the traditional art of Jamdani weaving. She also founded and ran Aranya, a boutique organisation that pioneered the use of vegetable dyes.
During a seminar on the launch of the book Indigo by Jenny Balfour-Paul in London, the author mentioned that the true expert was sitting in the audience, pointing out Ruby Apa. When I was travelling through India, one expert in vegetable dyeing asked me "How is the Indigo Lady?" It took me some time to realise the respect that our neighbours had for her.
She was a central leader of Bangladesh's craft industry – of its Jamdani revival, and for the small but strong niche that it had begun to carve out for itself within the subcontinent's field of crafts. Her dinners were always fun and varied, whether it was in the mix of invited company or amongst the books of poetry that lined Farhad bhai's (her husband, who passed away a month earlier) study.
Meeting her during the past one year had become difficult, since she was increasingly frail from multiple health issues and shielded by her family. And yet, when I wanted help in dyeing muslin yarn, she helped us to do it, leading us through the boiling vats of dye at the back of her office in Nikunja, near the airport.
Her workers adored her, her weavers respected her, her colleagues learnt from her, and we – well, we will miss her as no other, a light extinguished without another torch-bearer in sight, a legend fading into the night, representing a generation that delivered lasting results with limited resources. Goodbye and good night Ruby Apa, rest in peace, for your work will live on.
Saiful Islam is managing director of Bengal Muslin and Majority World.