ACC sues DIG Mizan over illegal wealth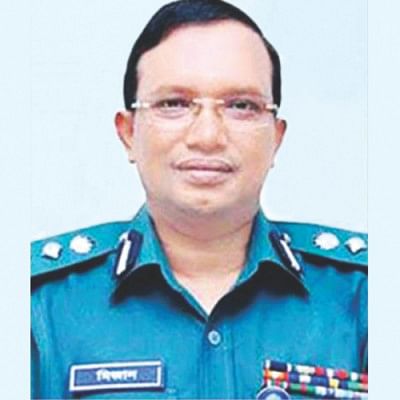 Top-ranking police officer Mizanur Rahman, who came to the spotlight last year for "forcibly marrying and torturing" a woman, has amassed Tk 3.28 crore illegally over a period of 20 years, finds an investigation.
The deputy inspector general (DIG) of police made the money by taking bribes and committing corruption, according to the probe conducted by the Anti-Corruption Commission (ACC). Between 1998 and 2018, Mizan earned Tk 4.63 crore, but only Tk 1.35 crore of it came from legal sources.
After finishing the probe, ACC recorded a case against DIG Mizan yesterday.
The Daily Star has got a copy of the case statement.
DIG Mizan came under scanner in January last year when he was accused of forcibly marrying and torturing a woman. Later, he was withdrawn from his post at Dhaka Metropolitan Police, and ACC opened an investigation into him in May last year.
According to the case statement, Mizan submitted his wealth statement to ACC in August last year, citing that he has Tk 1.56 crore of wealth -- Tk 46.26 lakh worth of moveable property and Tk 1.1 crore worth of immoveable property.
But he concealed the information about the remaining amount -- about Tk 3.07 crore -- and kept this money in different forms under his wife and relatives' names.
In February 2012, Mizan bought a 211 sq ft shop at Police Plaza Concord in Gulshan-1 at Tk 24.21 lakh under the name of his nephew, Mahmudul, and concealed the information. Mahmudul is a sub-inspector of police.
He also opened a fixed deposit receipt (FDR) account under Mahmudul's name at a private bank in November 2013 and deposited about Tk 30 lakh. Mizan was the nominee of the account.
Soon after the start of the investigation, Mizan closed the FDR account and withdrew Tk 38.88 lakh including the interest amount. He did not mention this information as well.
In March 2016, he bought a 2,400 sq ft flat under the name of his brother, Mahbubur Rahman, on Bailey Road. It was worth Tk 65.99 lakh.
During investigation, Mahbubur failed to show the legal source of the money spent for purchasing the flat. Moreover, Mizan was in the possession of the flat. It, too, was not cited in the wealth statement.
In 2011, Mizan booked a flat for his wife, Sohelia Anar Ratna, for Tk 2.2 crore at Kakrail, and paid about Tk 1.7 crore. But he registered the flat under his nephew's name later, showing Tk 59.9 lakh as the purchase price.
When ACC started the inquiry into his wealth, Mizan sold the flat to one Shefali Begum for Tk 61 lakh on April 24, 2019, according to ACC sources.
As he was under ACC's watch, he took a series of steps to make the money invisible. First, he deposited Tk 55 lakh (out of Tk 61 lakh) in his nephew's bank account. Then he drew Tk 54 lakh from the account on six different dates in April-June.
"This way Mizan laundered the money he earned illegally," said an ACC official, seeking anonymity.
His wife Sohelia, brother Mahbubur, and nephew Mahmudul were made accused in the case for abetting him in concealing information about the illegally-earned money.
INQUIRY INTO BRIBING
Meanwhile, the ACC investigation had stumbled after DIG Mizan raised an allegation of giving Tk 40 lakh as bribe to ACC deputy director and former inquiry officer Khandaker Enamul Basir. He had reportedly promised to free Mizan from the allegations.
After that, ACC suspended Basir and formed a fresh three-member committee to do the inquiry. The committee submitted the report recently, and ACC approved the filing of a case against Mizan on Sunday.
The commission also formed another committee to investigate the allegation of DIG Mizan bribing ACC official Basir.
As a part of the probe, the commission summoned Mizan and Basir for interrogation on July 1. ACC also asked senior reporter of ATN News Imran Hossain Sumon to appear before it on June 26. The television channel first aired a report where Mizan brought the allegation of bribing Basir.