Bangladeshis in war-torn Libya
500 stranded in Tripoli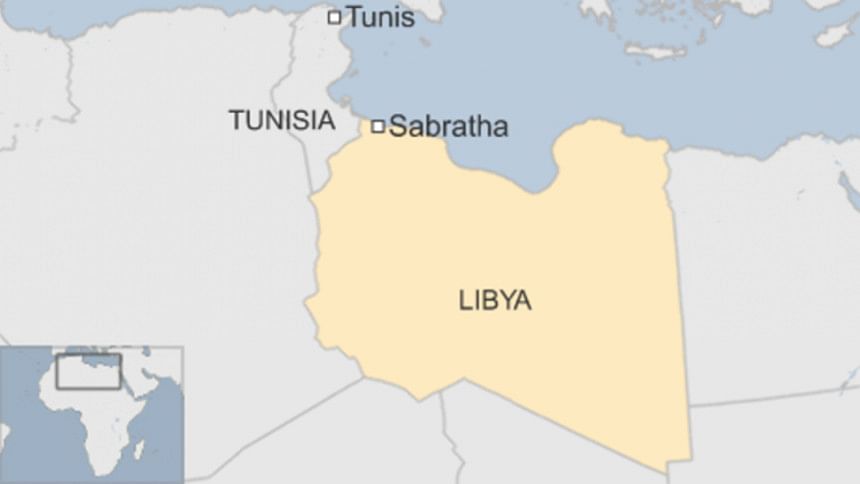 Around 500 Bangladeshis may have been stranded in two locations of Libya, about 200-kilometre off to the country's capital, amid fighting between UN-backed Libyan government and Libyan National Army.
Ashraful Islam, first secretary of Bangladesh Embassy in Libya, yesterday told this to The Daily Star over phone.
He said around 250 Bangladeshis had already been relocated from different areas of Tripoli in the last two weeks as a military campaign began in the areas to seize the city.
The Bangladeshis who had been relocated were accommodated at different Bangladeshi camps in safer areas of Tripoli, Ashraful said.
"We have relocated the Bangladeshis as they sought help after getting trapped into different areas as those were under attack," he said.
The embassy has a helpline number (+218-21-4911198-99) which is always ready to rescue those contacting, he added.
The Bangladesh Embassy in Libya is taking help from the Libyan Red Crescent to locate Bangladeshis using GPS and rescue them, the diplomat said, adding no casualty of Bangladeshis was reported during the recent fighting.
Nearly 180 people were killed as a result of Libyan National Army leader Field Marshal Khalifa Haftar's assault on Tripoli, reported The Guardian.
The news outlet also reported that at least four more civilians were killed in a bombardment on the Libyan capital overnight on April 16.
According to Bangladesh Embassy, an estimated 20,000 Bangladeshis live in Libya while some 5,000 of them live in Tripoli and its suburbs.
Following the recent attacks on Tripoli, an instruction has been issued that if Bangladeshis in Libya want to return, the Embassy would repatriate them free of cost, Ashraful said.
"So far some 12 Bangladeshis wished to go home. We are processing their repatriation," he further said, adding that most of the expatriates did not want to return home as they spent hefty sums to go to Libya.
Labour recruitment from Bangladesh has been stopped in Libya since 2014 because of the consequences of the civil war in the country that started in 2011.
Some 36,000 Bangladeshis were repatriated from Libya after the Libyan crisis begun. Almost similar number of Bangladeshis chose to stay back, said Ashraful.
There have been numerous cases of Bangladeshis being kidnapped in Libya and then held hostage for ransom. The kidnapping gangs involving Libyans and Bangladeshis collect ransom before setting them free, survivors told The Daily Star earlier.
Asked, Ashraful said such cases were still happening in the country. "Once notified, we try to rescue and save them."
Bangladesh, with support from the International Organization for Migration, arranged voluntary repatriation of over 600 Bangladeshis last year.
Most foreign missions in Tripoli have already been withdrawn since the civil war started. Only a few missions, mostly African ones, are yet operational, according to embassy officials.
UN-backed Libyan Prime Minister Fayez Al-Sarraj said hundreds of thousands of refugees could flee the fighting caused by Khalifa Haftar's attempt to seize Tripoli.
"We are facing a war of aggression that will spread its cancer throughout the Mediterranean, Italy and Europe," said Sarraj, who has been the prime minister of Libya since 2016, reported The Guardian on April 15.