New life for an old song
Kushtia's musical instrument industry seeks investment for expansion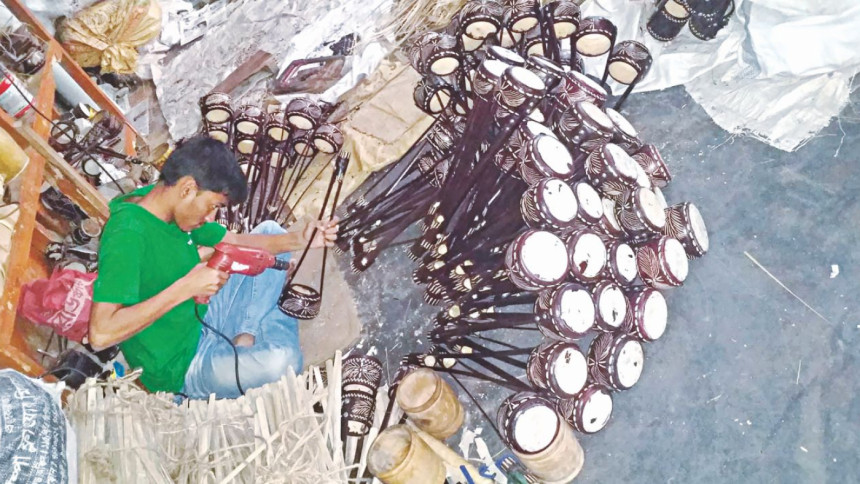 If Kushtia had a soundtrack it'd likely be a Baul song. That song should probably sound its most exquisite when played on locally crafted instruments. Behind the scenes, the district that was home to Lalon Shah for much of his life has an age-old musical instrument making tradition, one that seeks investment in order to expand.
"We have reached a level of development where we need financial backing if we want to move forward," says Amirul Islam Badsha, whose Ektara Bari factory is one of the largest musical instrument concerns. He foresees good opportunities in the industry for sound economic growth.
Kushtia's musical instrument sector already has sure footing. It currently employs thousands of craftspeople who work at the around fifty small-scale factories to make approximately 4,000 different types of instruments. At least 250 families rely on musical instruments to put rice on the table. Entire villages such as Chheuria, Mondolpara and Joynabad have achieved particular acclaim for the instruments they produce.
Demand is also there. Traditional instruments including a wide range of drums, bell-metal cymbals, flutes and 'dung' horns are prized by music enthusiasts, with the lute-like one-stringed 'ektara' and its multi-stringed 'dotara' cousin the most popular of all.
Locally, the Akhra Bari market located beside the main gate of Lalon's shrine has around 100 musical instrument shops; but Kushtia's instruments are also sold across the country and beyond.
"Instruments from our factory are made for both country-wide demand and for the Akhra Bari market," says Azhar Uddin, a maker from Chheuria. "Visitors to Lalon's shrine like to buy instruments. During festivals we are especially busy."
"Day by day, demand increases," says Nasir Uddin, the owner of Nishita Ektara Factory. "Most often made of wood, bamboo and wire, our instruments are popular in part because prices are reasonable. An ektara costs anything from Tk 50 to Tk 1,000. A dotara's price ranges from Tk 150 to Tk 1500. An average khol drum will sell for around Tk 2,500. With government loans we could make the most of this vibrant demand."
Kumarkhali Upazila Nirbahi Officer Md Shahinuzzaman suggested to The Daily Star that instrument factories might be brought under the public 'One Home, One Farm' initiative that would entitle them to small loans.
Kushtia's Deputy Commissioner Zahir Raihan says he will consider the matter.