Mro life turned upside down
With their lands grabbed, 81 families in Bandarban find it hard to make a living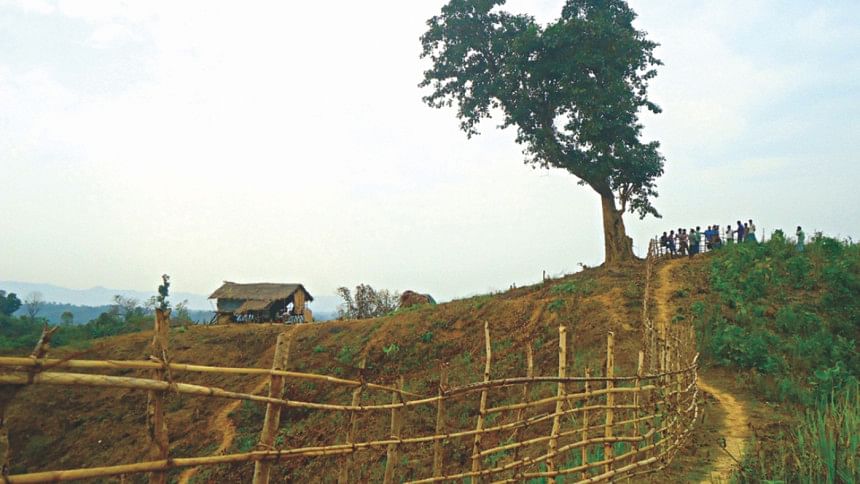 Jhum cultivation is what Kumrao Mro did for a living until recently he has lost his land in Lama upazila of Bandarban to the relentless grabbing by Bangalee settlers.
Now in his sixties, he is compelled to think what else he can do to feed his family of six. 
Like his, 81 other families have become landless in three villages -- Kompong Mro para, Aomboy Mro para and Menlon Mro para -- of Lonkhyong mouza of the upazila.
Shahidul Islam from Barisal began occupying jhum land in the villages in August last year, locals said. His men now do not allow villagers to step onto the land that they cultivated even a year ago.
During a visit to the upazila, four men were seen clearing jhum land.
Among them, Rashid Ahmed said he and the other men were Rohingyas. Shahidul has been paying them Tk 300 each per day for a month for clearing the land, he added.   
Shahidul admitted that he grabbed land with the help of his relative Abul Hossen, a local leader of the ruling Awami League.
He claimed that he bought around 20 acres of land at Kolajiri from the headman of the mouza at only Tk 9,000 in 2008.
He has reports given by the headman, claiming his ownership of the land, one of which he showed to the correspondent. 
"Now more than 100 acres of land is under my possession.
"It takes time to get the 'legal ownership' of land in hills. I will soon start the process for my possessed land," Shahidul said.
Asked how he would get the legal papers, he claimed that he would get the headman's report on the remaining 80 plus acres like he did earlier.
According to the Hill District Council Act 1989 and the Chittagong Hill Tracts Regulation 1900, no land including the khas land suitable for settlement within the jurisdiction of Hill District shall be leased out, settled with, purchased, sold out or transferred otherwise with the prior approval of the department concerned.
"The illegal purchase of jhum land has continued unabated managing the local administrations, headmen and ruling party men," said Mangol Kumar Chakma, information and publicity secretary of Parbatya Chattagram Jana Sanghati Samity (PCJSS) that signed the CHT Peace Accord with the government in 1997.
Chong Pung Murong, headman of Lonkhyong mouza, said AL leaders had forced him to give the headman reports declaring grabber's ownership over the jhum land in Choto Kolajiri area.  
Saching Prue, organising secretary of AL Lama upazila unit and chairman of Ruposhipara union, however, denied the allegations.
"Local Awami League leaders are behind everything. They helped Shahidul grab jhum land first and they would hand over the land to a rubber plantation company for a big amount," said Md Mantu, a friend of Shahidul.
Indigenous people mostly depend on jhum cultivation and forest resources for their livelihood in hills.
Goons destroyed cropland and then forced them to leave their farm houses, the victims said.
"We are helpless. When we protest, we face death threats," Kumrao Mro, 60, of Kompong Mro para, said.
Asked why they did not seek help from police, villagers said they had been implicated in false cases several times for protesting land grabbing.
"We met our social leader, Chung Pung Mro [headman of Lonkhyong mouza] several times but to no avail. He did not pay any heed to our sufferings," said Ching Moy Mro, of Aomboy Mro para.
A few villagers said the headman had links with land grabbers and that he had allowed many influentials to occupy hilly land by issuing reports in exchange for money. 
State Minister for Chittagong Hill Tracts Bir Bahadur U Shew Sing rejected the issue of land grabbing altogether.
Companies are making investments for rubber plantation that will ultimately benefit hilly people, he said.
Bir Bahadur, lawmaker from Bandarban, had committed himself to saving land of indigenous people in the hills, said KS Mong Marma, central member of PCJSS.
But he did not take any action against the land grabbing in the district. Rather, he maintains good relations with influential grabbers, he added.
Since the signing of the peace accord, 156 indigenous families of twelve villages in Bandarban have been dislodged from their ancestral land by Bangali settlers, influential rubber plantation owners and horticulturists, said Jumlian Amlai, Bandarban chapter unit president of Parbatya Chattagram Forest and Land Rights Protection Movement.
People's representatives have been patronising the illegal act and that is why the local administration finds its hands tied, said Khaled Mahmud, Lama Upazila Nirbahi [executive] Officer.