Moulvibazar Khasi Village
Women keep vigil to protect homes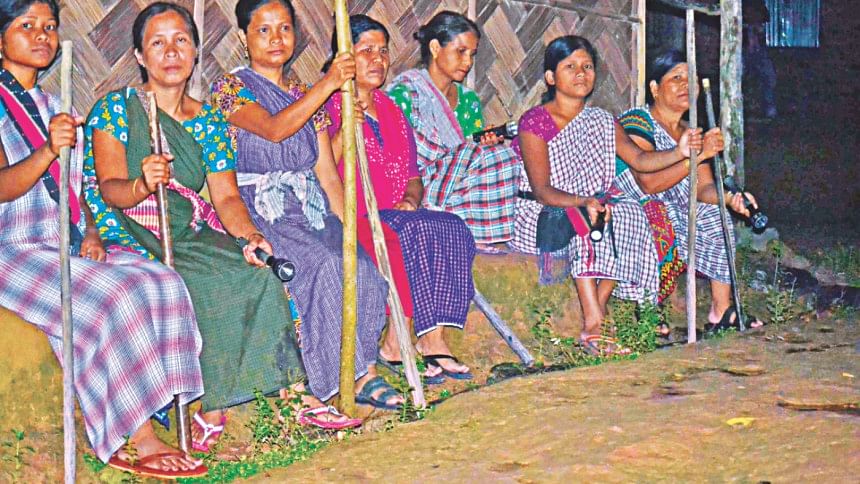 Khasi women of two punjees in Moulvibazar's Sreemangal upazila have started guarding their houses and betel leaf gardens in a bid to resist any attempt to evict their families and grab their land.
They have taken it upon themselves to protect their homes as most of the male members of the punjees (villages) have fled their houses in fear of arrest following an eviction notice issued by the district administration.
The notice, issued on May 30 to some 700 Khasi people living in two villages collectively known as Nahar Punjee, asked the villagers to vacate 150 acres of the 250-acre punjee area by tomorrow.
The authorities accused them of illegally occupying 150 acres of government land and cultivating betel leaf there. The notice warned that the authorities would use the police to force the residents out of their homes if they fail to move out within the deadline.
Indigenous rights activists alleged that the district administration was acting in support of Nahar Tea Estate, which has been trying to grab the land since 2007 to expand its area.
Armed with sticks and divided into small groups, the Khasi women now guard their houses and betel leaf gardens night and day, Mousumi Ruram, a punjee resident, told this correspondent.
Raul Mannar, a local of the punjee, said, "We have been living here for generations. Many Khasi families earn their livelihood by growing crops on the land. Without this land, it would be impossible for them to survive."
Fifty-five-year-old Daimon Lamin said, "We are Bangladeshi citizens and we have voting rights, yet we are among the most deprived ones in the country. We have been living and cultivating on the land for many years now, but still we don't have a place of our own."
Dibarmin Lamin, headman of Nahar punjee, said, "We would like to live and die on this land they way our ancestors did. We will sacrifice our lives but won't move from here."
Flora Bably Talang, general secretary of KUBORAJ (Kulaura, Borolekha and Raznagar upazilas), an organisation working for the rights of Khasi people, told The Daily Star that armed thugs allegedly sent by the tea estate authorities attacked villagers, vandalised their homes and damaged betel leaf gardens on several occasions.
The tea estate was established in 1964 on a leased government land but the indigenous people have been living in the area for years, she said.
"They [the tea estate owners] have long been trying to evict the Khasi people but failed. This time, they are trying to use the local administration," she alleged.
In order to save their land, the Khasi people filed two land occupancy cases with a district court in 2012 and 2014, which remain unresolved till date, she added.
Faruq Mahmud Chowdury, president of Sylhet unit of Sushasoner Jonno Nagorik, said, "Everyone has a right to live and manage livelihood. So do the Khasi people. We'll help and support Khasi people in every way possible."
Terming the government move inhuman and unacceptable, Father Joseph Gomes, a Moulvibazar-based central committee member of Bangladesh Paribesh Andolon (Bapa), said, "We will stand by these people and file a writ petition against the move if necessary."
Moulvibazar's Additional Deputy Commissioner (revenue) Prakash Kanti Chowdhury, who signed the eviction notice, denied the alleged link of the tea estate owners with the eviction notice.
"The allegation is baseless. The eviction notice was served by maintaining proper procedure. But our local officials were not aware of the two pending cases," he added.
Urging the government to immediately withdraw the notice, Sanjeeb Drong, general secretary of Bangladesh Adibashi Forum, said the authorities have no right to issue an eviction notice until the cases were settled.