Mosharraf's free fall in AL continues
Removed from JS body helm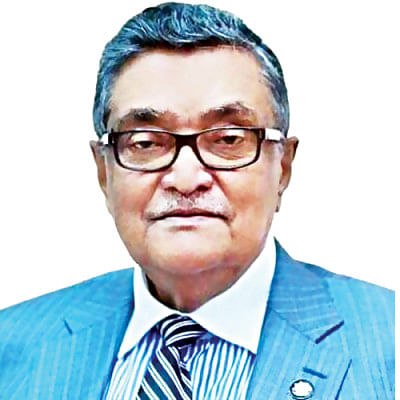 Former LGRD minister and Awami League MP Khandker Mosharraf Hossain's fall from grace continued yesterday as he was removed from the post of chief of the parliamentary standing committee on the LGRD ministry.
Nurul Islam Nahid, former education minister, was made chairman of the committee.
Chief Whip Noor-e-Alam Chowdhury Liton, on behalf of Leader of the House Sheikh Hasina, placed the proposal in parliament that was passed by a voice vote.
Now in AL, Mosharraf is just a member, and in parliament, an MP.
Following the AL council on December 24, Mosharraf was removed from the AL advisory committee.
On May 12, he was relieved of the executive member post of Faridpur AL. He has been inactive there for two and a half years.
When asked for comments on his removal from the JS body, Mosharraf yesterday told The Daily Star over telephone that he was abroad and hung up.
Mosharraf has been in Switzerland for around a year. He has been absent in parliament since April 6 last year and has missed at least four sessions, said sources at the parliament secretariat.
Since March, the parliamentary standing committee on LGRD ministry could not hold any meeting due to his absence, they said.
The parliamentary body had only two meetings in 2022 when such bodies are supposed to hold at least one meeting every month.
Mosharraf joined the AL in 1996.
In 2008 national elections, he became the first person to win Faridpur-3 on AL ticket.
He was made the minister for expatriates' welfare and overseas employment, and after that he established absolute control over Faridpur AL.
Several media outlets reported that his close aides had then built mountains of wealth by controlling the bidding process for development work, extorting money, and grabbing land.
Mosharraf was reelected MP in 2014 and made LGRD minister.
In 2018, he was not given a berth in the cabinet, but was made the chief of the JS body on LGRD ministry.
Led by Sazzad Hossain and his brother Imtiaz Hossain, Mosharraf's supporters had reportedly established a reign of terror in Faridpur.
The duo did so allegedly with the blessings of Mosharraf and his elder brother Mohteshan Hossain, now behind bars in a money laundering case.
On May 16, 2020, Faridpur AL president Subalchandra Saha's house was attacked and Sazzad and Imtiaz were arrested in this connection in June that year.
After this, Mosharraf became inactive in Faridpur.
After Mohtesham was arrested on March 8 last year, Mosharraf became inactive in parliament and left for Switzerland towards the end of April, sources said.