Mosquito Breeding: DSCC to run mobile court in homes
Warns of legal action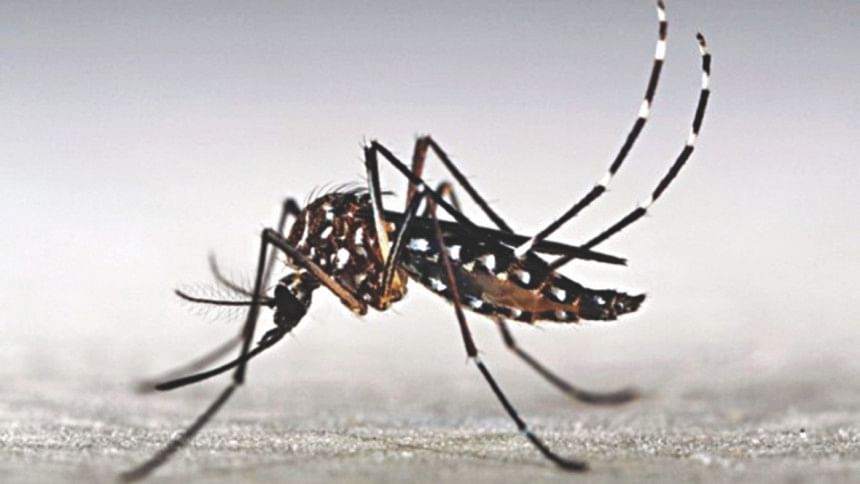 Residents of Dhaka South City Corporation area will have to face fine or imprisonment or both if any breeding ground of Aedes mosquitoes, responsible for the spread of dengue and chikungunya, is spotted at their homes.
"If any Aedes mosquito breeding ground or its eggs or larva is found at any house, action will be taken against the homeowner," DSCC Mayor Sayeed Khokon said at a views-exchange meeting at the Nagar Bhaban yesterday.
He said a mobile court will carry out drives at houses in the city's different areas on April 8. Copies of a notice would be sent to the 1.65 lakh homeowners soon urging them to make sure that there was no breeding spot of Aedes mosquitoes at their homes, he added.
Meanwhile, residents and public representatives yesterday demanded the Dhaka North City Corporation (DNCC) ensure spreading adequate chemicals under constant monitoring to tackle the continuing mosquito menace in the city.
Speaking at another views-exchange meeting, they also demanded the authorities clean the city canals, drains and wetlands regularly to contain breeding of mosquitoes at source.
The DNCC organised the programme at its Gulshan office to discuss the possible outbreak of mosquito-borne diseases like dengue and chikungunya ahead of ensuing monsoon. Ward councillors, leaders of homeowners associations and representatives of media organisations were present.
Mapping of mosquito breeding grounds, drawing up a plan to fight the menace at larva stage, employing adequate manpower to spray chemicals and arranging adequate fund are must to face this huge public health challenge, said Ward Councillor Zinnat Ali, also the convener of the DNCC's mosquito control committee.
"Those who spray chemicals are not carrying out their duty properly," said Shah Alam, president of Uttara Sector-14 homeowners welfare society.
He said illegal structures have been built on roadside drains making the cleaning job difficult. He alleged that no mosquito control activity was being carried out in the newly added areas of the DNCC.
Alam stressed the need for ensuring use of quality chemicals to repel mosquitoes.
According to a survey conducted in January by the communicable diseases control wing of the health ministry, 20 out of 41 sites in the capital were having high concentration of aedes mosquitoes. 
The areas include Banani, Bashundhara, Gabtoli, Moghbazar, Malibagh Chowdhurypara, Mirpur, Mohakhali DOHS, Nakhalpara, East Sheorapara, Tollabagh and Uttara Sector-9.     
Homeowners association leaders from Uttara, Mohammadpur, Banani, Niketan, Mirpur and Gulshan said spraying of chemicals by the city corporation was scanty. Filled with dirt, Abdullahpur, Ramchandrapur and Baunia canals were ideal breeding grounds of mosquitoes, they added.
Md Mizanur Rahman, superintendent engineer of Dhaka Wasa, said they would clean the canals in the next couple of months.
DNCC Chief Executive Officer Md Mesbahul Islam said despite some "crash programmes" in recent weeks, they were far away from achieving the expected level of control on mosquitoes.
He said though they have adequate stock of chemicals, they have only 283 sprayers who can revisit a site maximum twice a week in the 82 square km DNCC area.
DNCC panel mayor Md Osman Goni and Chief Health Officer Brig Gen Zakir Hassan were present at the programme.