March 14, 1971: Fight is on for independence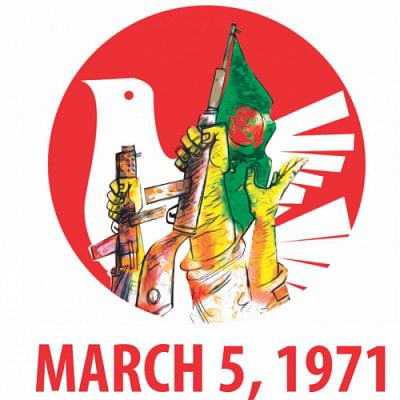 The ongoing non-cooperation movement's second phase was nearing its end.
People all over East Pakistan were still defying the martial law and refused to go to their respective offices.
Meanwhile, Bangabandhu, on the topic of joining the National parliamentary committee meeting, gave four conditions.
To press the authority to accept the four conditions, rallies and processions were brought out in Dhaka.
Chief of the Council Muslim League, Mian Mumtaz Muhammad Khan Daultana, had said that Sheikh Mujibur Rahman's demands were quite reasonable and should be accepted in order to bring an end to the political crisis in Pakistan.
In this regard, Leader of the Jamiat Ulema-e-Islam Parliamentary Party, Maulana Mufti Mahmud, said, "In spite of the disastrous gravity of the situation in East Pakistan, of the tremendous heat and pressure generated there and the scope thus given to disrup¬tive forces, Sheikh Mujibur Rahman has shown his stature and his firm commit¬ment to the solidarity of Pakistan, by putting in the present crisis the four demands that are not in the least parochial or regional, but exclusively based on a national approach."
The same day, National Awami Party leader Abdul Wali Khan and Sheikh Mujibur Rahman had a meeting at Bangabandhu's residence in presence of Awami League's leaders.
After the meeting, Sheikh Mujibur Rahman said it would be a fight for the independence of Bangladesh and Bangladeshis.
Syed Siddiqul Hasan Gilani, chief of the parliamentary affairs of the Jamaat-e-Islami, said that the responsibility for the present crisis laid with ZA Bhutto, the People's Party Chief, who had aggravated the situation by threatening to boycott the National Assembly session on March 3.
On the other hand, in Nishtar Park of Karachi, a rally was organised by the People's Party where Bhutto proposed that the power be handed over to the major parties of Pakistan.
He addressed the public saying there were two wings of the country. The People's Party was in majority in this wing (West Pakistan) and the Awami League in East Pakistan. If power was to be transferred to the majority parties of the two wings, it should be given to the Awami League in East Pakistan and to the People's Party in the West wing.
He then urged Bangabandhu to sit for a dialogue.
Meanwhile, in a rally in Barisal, National League chief Ataur Rahman Khan called for the formation of a temporary government by Sheikh Mujibur Rahman.
Bangabandhu called upon the freedom-loving people of East Pakistan and urged them to continue their agitation programme.
On this night, 47 years ago, he also announced new orders for the future.
"Bangladeshi citizens' fight cannot go to waste. We're indomitable because we're ready to die," he said.
And ready to die, they were.
Source: Liberation War Museum and Bangladesh Genocide Archive