Man held in Ctg with stun gun, drone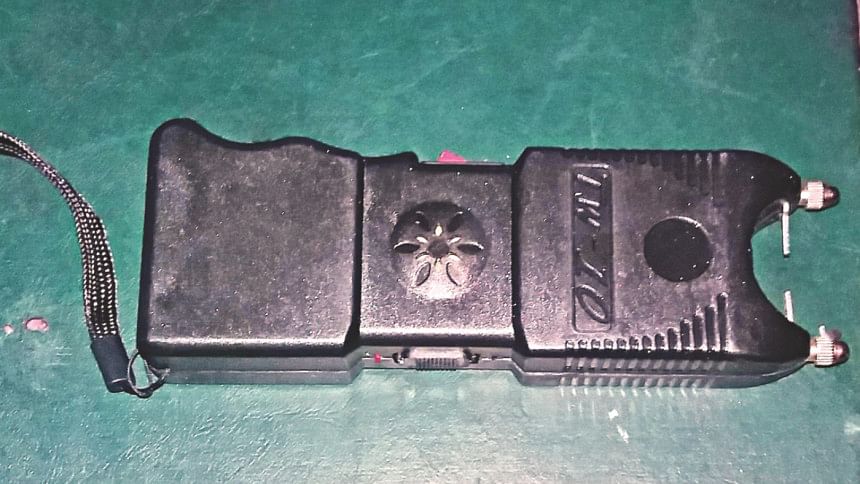 Customs intelligence officials arrested a man with a drone and a stun gun at Shah Amanat International Airport in Chittagong Tuesday morning.
The news of the seizure was made public yesterday, as the officials said it took them a day to verify the items, which the arrestee claimed to be toys, with the help of intelligence and law enforcement agencies.
"This is the first ever seizure of a stun gun, an electroshock weapon, which has the capacity of delivering electric shock of up to 1 million volts," said Hossain Ahmad, additional director general of Customs Intelligence and Investigation Directorate.
Representatives of intelligence and law enforcement agencies, after examining the devise (stun gun), confirmed that it is a high-tech defense weapon, he said.
The other seized device is a 2.4 GHz Quadcopter with on-board high definition (HD) camera, which is able to fly over three to four-storied building, said officials of the directorate.
Such a device could be used for spying and for collecting information from the country's important establishments, they added.
The quadcopter is able to take photos and videos while in flight and the captured images and clips could be seen live and also be transmitted, said a senior official, preferring anonymity.
Mohammad Solaiman, 32, of Chittagong's Patiya upazila was held on Tuesday after he arrived from Dubai on a Biman Bangladesh Airlines flight that landed at the airport at 8:55am.
On information, a team from the directorate intercepted him at 9:30am while he was crossing the Green Channel of the airport's Customs Hall. The items were found after checking his luggage, said ADG Hossain Ahmad.
During primary interrogation, Solaiman said he has business in Dubai and claimed that the items were toys, he said.
According to his passport, Solaiman frequently travelled to Dubai and China, officials said.
ADG Ahmad said officials of intelligence and law enforcement agencies confirmed them that the items could pose a risk to the country's security and its people, as criminals could use them to harm people.
Contacted, Moinul Khan, director general of customs intelligence, said permissions from home and commerce ministries are required to import any weapon and ammunition.
Assistant Revenue Officer Jahir Ali of the directorate filed a case against Solaiman with Patenga Police Station yesterday under section 1 (B) of 25 (B) of Special Powers Act.
According to the FIR, the passenger did not follow sections 6 and 8 of the Import Policy Order 2012-2015 and violated sections 16 and 18 of the Customs Act 1969 by bringing in the items from abroad through concealment in order to evade tax and violating import and export control.
The arrestee was handed over to Patenga Police Station, while the seized items were kept at the custodian branch of Chittagong Customs House.