For love of the country, for love of art
80-year-old freedom fighter runs own art school for village children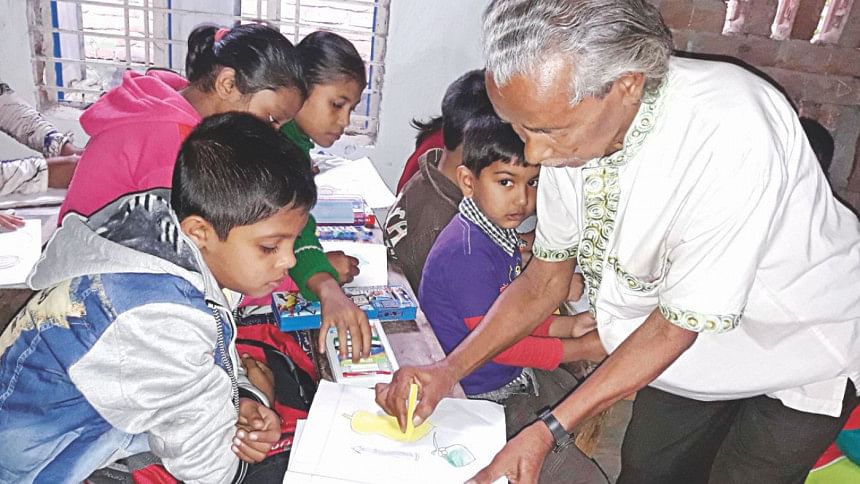 None could say that Azizur Rahman, 80, from Rautara village in Magura Sadar upazila hasn't contributed to his country. As a freedom fighter he had an active role in the Liberation War, serving in sector eight. Nor could anyone begrudge him if he chose to live his old age quietly. But Aziz, an experienced artist, contributes still. Of his own initiative and without remuneration he teaches painting, music and dance to village youths, in the process imparting the proud legacy of liberation.
"In 1971 I fought for the people of this country," says Aziz. "Now I fight to make the present generation aware through art and culture about the bloodshed, about the freedom fighters who sacrificed their lives."
Aziz, who was born in Rautara in 1938 and passed his Higher School Certificate in 1972, studied art under Mostafa Monoar, son of the poet Golam Mostafa.
Subsequently, in 1985 he founded the Mostafa Aziz Art and Culture Centre on six decimals of his own land. It's hardly the sort of institution one would expect to find in a rustic location like Rautara, fifteen kilometres from the district town.
"It's not only painting, music and dance that I teach to the village children," says Aziz. "I also hope to convey a healthy sense of patriotism, nationalism and humanism."
He admits some of his own paintings and sketches illustrate 'horrifying and devilish' scenes from 1971; but Aziz is confident such themes have value in increasing the awareness among his students about the realities of war.
The foundation's classes, held of a Friday and without tuition fees, are popular with students and caregivers alike. "My son Abid Hasan studies there," his mother Ratna Begum says. "He's really enthusiastic about his art classes."
"My son has learnt to draw landscapes," says Taslima Khatun, the guardian of another student, Farhad Hossain. "He's become an expert in painting natural scenery."
The foundation provides students with coloured pencils, chalk and art paper, all the materials they need. Its expenses are primarily covered by income earned from the fifteen bighas of land Aziz inherited, with kind donations also contributing.
Alongside Aziz, there are six other teachers, senior novice painters who still study under Aziz and graciously donate their time to double as teachers.
"It's an immense pleasure to teach the students," says one of the novice artists, Rabiul Islam. "All of us volunteer happily."
The chairman of the local Hazrapur union council Kabir Hossain meanwhile, describes Aziz as an energetic entrepreneur. "He is loved by all for his voluntary service over many years." The chairman adds that he has allotted a solar panel to the art school which will power two fans and eight lights.
During the year, the foundation is at its busiest on national holidays including International Mother Language Day, Independence Day, Pahela Baishakh and Victory Day.
Students from many nearby institutions along with the general public like to gather there on such occasions, in particular because the foundation is one of the few institutions in the area to have a Shaheed Minar monument, to commemorate the martyrs of the 1952 Language Movement. It's hardly a surprise that Aziz organised the monument's construction himself.
A living embodiment of the spirit of the liberation struggle, Azizur Rahman thinks little of his personal wellbeing. As a veteran artist he is by his own admission not rich, yet the sprightly octogenarian is perennially focused on being of service to others. "I do it for the country," Aziz reiterates. "It's not money that I seek."