Hate campaign on against Shyamal
Local Hefajat, cable TV 'being used' to smear the headmaster, Islamist group's central body says it gave no instruction to its N'ganj unit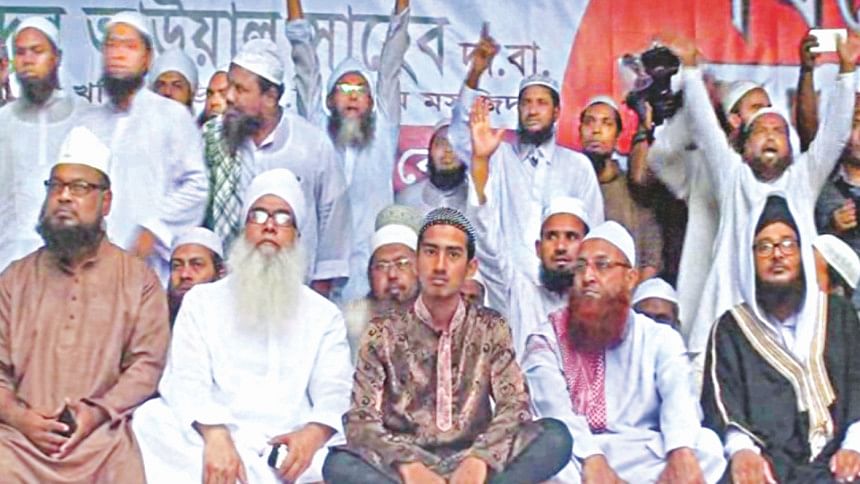 Smear campaigns continue in attempts to portray Shyamal Kanti Bhakta as an anti-Islam element though an education ministry probe has found no evidence that the Narayanganj headmaster had made anti-religious comments.
Especially, the Narayanganj chapter of Hefajat-e Islam and a local cable TV network are being used in spreading hatred against Shyamal, sources said.
Under the banner of "Sarbastorer Musalman O Touhidi Janata", the Hefajat unit along with another Islamist group, Tehrik-e-Khatme Nabuwwat, on Friday issued a 72-hour ultimatum to the government to try Shyamal for "hurting Islam". 
Some residents of Narayanganj said a cable TV network televised the rally live. Since then, a recorded version of the event is being broadcast constantly on local cable channels.
These arrangements have been made following directives from Salim Osman, Jatiya Party lawmaker from Narayanganj-5, the sources added.   
It was also found that a song was posted by "Al Madina Shilpi Gosthi" on YouTube, hailing Salim as a protector of Islam.
Besides, inciting people to kill Shyamal, Facebook group Salauddiner Ghora (The Horse of Salauddin) in a post last night announced that Shyamal's "punishment is death" for making "disparaging remarks about Islam".
Talking to The Daily Star yesterday, Nur Hossain Kasemi, a central leader of Qawmi madrasa-based organisation Hefajat-e Islam, said neither its central leadership nor the Dhaka committee has given any instruction to its Narayanganj chapter to hold any demonstration on the issue.
"We have no proof that the Hindu teacher made any derogatory comment on Islam," Kasimi, nayeb-e-ameer of Hefajat, told The Daily Star.
"That's why the Hefajat leadership didn't instruct its leaders to stage protests against the teacher."
He added, "I don't know on whose instruction Hefajat's Narayanganj unit had arranged Friday's meeting. We are looking into the matter." 
From Friday's rally, the Islamist groups threatened to paralyse Narayanganj as well as the country with hartal and blockade on Dhaka-Chittagong highway if the demand was not met.
Rifat Hossain, a class-X student of Shyamal's school, was also brought to the rally. Addressing the gathering, he said the headmaster made anti-Islam comments while beating him up in class.
But earlier, talking to different media outlets, Rifat categorically said the teacher beat him up but didn't say anything against religion.
Sources said the schoolboy was taken to a mosque before the rally and tutored to speak against the teacher. 
The Daily Star could not contact Rifat to get his version in this regard.
On May 13, Shyamal, headmaster of Piyar Sattar Latif High School in Bandar area of Narayanganj, was physically assaulted by a mob over the allegation that he made derogatory comments about religion while beating up a student in class.
Salim Osman then made Shyamal do squats holding ears in public, sparking outrage across the country.
After several attempts to label Shyamal as an anti-Islam element failed, Salim Osman has engaged Hefajat and Tehrik-e-Khatme Nabuwwat to spread negative propaganda against the Hindu teacher, according to well-informed sources, local journalists and politicians.
Contacted, the lawmaker refused to reply to any question.
At a press conference on Thursday, he said the teacher admitted demeaning Islam and later did squats willingly.  But Shyamal said that's a blatant lie.
Now under treatment at Dhaka Medical College Hospital, the teacher yesterday told this newspaper that some vested quarters are misguiding schoolboy Rifat.
He regretted that his student is being used to counter the countrywide protest against his humiliation.
The education ministry probe report mentioned that the headmaster physically punished a student in class on May 8. He later apologised to the student's family.
The family next day lodged a written complaint with the school managing committee against the teacher. The complaint did not mention anything about hurting anyone's religious sentiment, said a top official of the education ministry, citing the probe report.
The ministry reinstated him following the probe body recommendation.
Shyamal's wife Sabita Halder said they are seriously concerned about their security after Friday's rally.
Asked about the threat posted on Facebook, Officer-in-Charge of Shahbagh Police Station Abu Bakar Siddique said they are aware of this and they have taken adequate security measures in this regard.
LOCAL AL MEN BACK SALIM
While ministers and central Awami League leaders are castigating Salim Osman for humiliating the teacher, several local leaders of the party and its front organisations are speaking in favour of the Jatiya Party lawmaker.
Those local leaders are also against the government decision to reinstate Shyamal and dissolve the school managing committee, reliable sources said.
Road Transport and Bridges Minister Obaidul Quader on Friday said the decision to reinstate Shyamal as headmaster was made as per the prime minister's directives. He also said all the ministers support the education ministry's action to this end.
Besides, Health Minister Mohammad Nasim, Law Minister Anisul Huq and Education Minister Nurul Islam Nahid condemned the public humiliation of Shyamal.
But from a protest meeting at Narayanganj Chasara intersection yesterday, local Jubo League and Swechchhasebak League leaders warned that they will not tolerate if anybody from Dhaka comes to Narayanganj and speaks against Salim Osman.
Besides, Narayanganj district unit of Chhatra League on Friday held a rally in front of Narayanganj Press Club, protesting "propaganda against Salim Osman".
The programme was attended by Shah Nizam, joint secretary of the city AL; city's Jubo League President Shahadat Hossain and Narayanganj district Chhatra League President Safayat Alam.
Salim Osman is elder brother of Shamim Osman, Awami League lawmaker from Narayanganj-4.
Also on Thursday, Khokon Shaha, general secretary of Narayanganj city Awami League; Qamrul Hasan Munna, executive member of the city AL, and Abdur Rashid, president of Bandar upazila AL, joined the press conference of Salim Osman.