Lax probe led to latest attacks
Had police made any headway in the murder cases of four bloggers and done their jobs properly, yesterday's attack on publishers and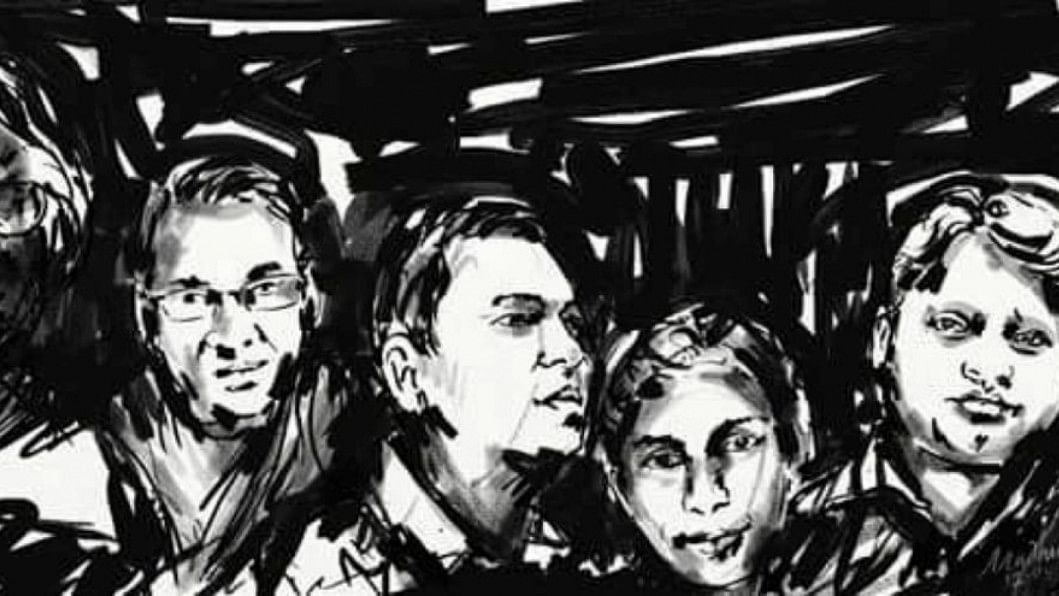 Had police made any headway in the murder cases of four bloggers and done their jobs properly, yesterday's attack on publishers and writers could have been avoided, said the slain bloggers' relatives and friends.
Believing yesterday's attacks were no stray incidents, they said police failure in solving the earlier cases and hunting down the killers allowed the criminals to go wild and attack freethinkers one after another.
Four secular bloggers -- Avijit Roy, Oyasiqur Rahman, Ananta Bijoy Das and Niladri Chattopadhyay -- were stabbed to death in seven months since February this year.
Law enforcers have little to show for, they said.
Investigators were yet to submit charge sheets in the Avijit, Niladri and Ananta murder cases. All they did was arrest a handful of suspects.
Detectives did submit a charge sheet against five people in the Oyasiqur killing case but two of the accused were on the run.
Yesterday, assailants stabbed to death Faisal Arefin Dipan, owner of Jagriti Prokashoni, at Shahbagh the very day publisher Ahmedur Rashid Tutul of Shuddhoswar Prokashoni and two bloggers were attacked in Lalmatia.
Both were Avijit's publishers.
"It cannot go like this," said Prof Ajoy Roy, father of Avijit. "They have killed authors. Now they are after the publishers."
Prof Roy believes Tutul and Faisal were the targets of the criminals as they were friends of Avijit and had published his books.
Muntasirul Islam, deputy commissioner (media) of Dhaka Metropolitan Police, said eight people were arrested in connection with Avijit's murder and four in connection with Niladri's killing.
For the Avijit killing case, they have sent some pieces of evidence to the FBI for tests. The Detective Branch was yet to receive any results, he added.
Avijit was stabbed and slashed to death near TSC of Dhaka University on February 26 after his wife Rafida Ahmed Banya and he got out of the Amar Ekushey Boi Mela. Rafida was badly injured in the attack.
In August, Rab detained three people, including Touhidur Rahman, a Bangladesh-born UK citizen, and said they were behind the killings of Avijit and Ananta.
Rab claimed Touhidur had masterminded the killings.
Touhidur's family refuted the claim and said he was picked up by law enforcers in plainclothes from his Dhanmondi home long before the day Rab had mentioned as the day of his detention.
Earlier, law enforcers arrested Shafiur Rahman Farabi, a former Hizb-ut Tahrir leader, in connection with Avijit's murder. But they have not yet been able to establish Farabi's link with the murder.
Blogger Ananta, also an activist of Sylhet Gonojagaran Mancha, was stabbed to death in broad daylight by a group of assailants in Sylhet on May 12.
A CID team arrested Idris, a photojournalist of the Daily Sabuj Sylhet, in this connection and had him on remand but they could not find any link between him and the murder and he was let go, according to sources.
Debashish Debu, spokesperson of Sylhet Gonojagoron Mancha, said CID's inefficiency had triggered frustration among freethinkers in Sylhet.
The latest incidents could have been avoided had the police been efficient in unearthing the mystery and capturing the killers of Ananta and the others, he added.
Special Superintendent (organised crime) Mirza Abdullahel Baqui of CID claimed that they had identified a number of the suspects.
Blogger Oyasiqur too was hacked to death in broad daylight in the capital's Tejgaon area on March 30.
Locals chased and caught two madrasa students and handed them over to police while another suspect was detained at a checkpoint in Wari two days before the murder. The two students had told police that he was supposed to be with them during the murder.
A Dhaka court on September 30 took cognisance of the charges against five members of banned militant outfit Ansarullah Bangla Team (ABT) in connection with the killing. Two key accused are still at large.
Niladri, a Gonojagoron Mancha activist, is the fourth blogger hacked to death. Four cleaver-wielding youths killed him at his Goran flat on August 7.
Police arrested three people, including a nephew of the State Minister for Labour and Employment Mujibul Haque Chunnu, in connection with the murder six days later.
Niladri's friend Devjyoti Rudro said he got in touch with detectives to know about the probe progress a month ago. But he was told that investigators were doing their job and that they would inform Niladri's family once any significant progress was made.
Law enforcers have some success in the blogger Ahmed Rajib Haider murder case. Rajib was attacked on February 15, 2013, in the capital's Pallabi.
The police pressed charges against eight ABT members, including prime accused and ABT chief Mufti Jasimuddin Rahmani.
The case is now under trial.
Home Minister Asaduzzaman Khan Kamal told the BBC Bangla service that they have captured almost all the key suspects of the murders. Some of them are at large. 
"We will capture the people behind these new murders too," he said adding that it was needed to be investigated as to why these crimes were being committed.