It's same old story
City traffic goes haywire after little rain; commuters, Eid shoppers suffer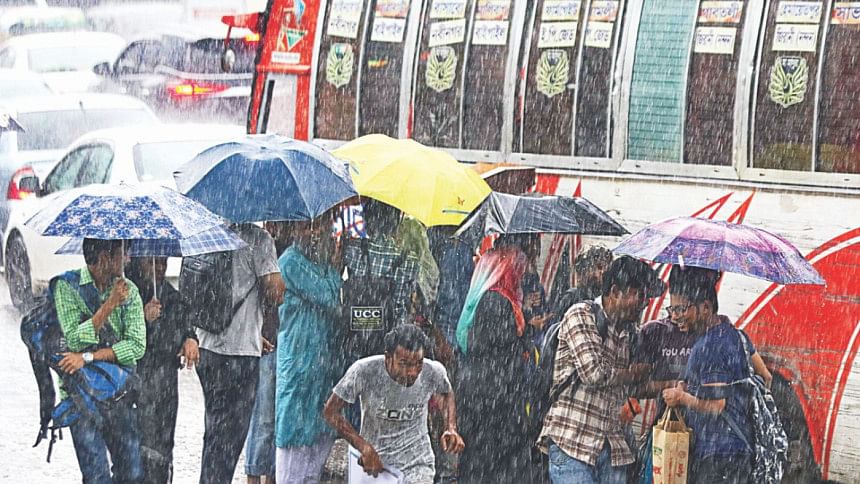 Commuters suffered long delays as moderate rain caused gridlock on city roads yesterday.
The traffic situation worsened as a large number of Eid shoppers poured into malls at the weekend.
Rokhsana Khanam, a resident of Badda, had to endure traffic snarl ups to travel to and from Bashundhara City in Panthapath.
Rahat Abdullah from Malibagh said the road stretching from Malibagh intersection to Moghbazar intersection was packed with vehicles as shoppers thronged malls in Mouchak area.
"I walked to Moghbazar intersection from in front of Mouchak market. Then I took a rickshaw to Karwan Bazar. It took me more than an hour to reach Karwan Bazar," said Rahat.    
Abul Hossain of Hatirpool said he hired a CNG-run auto-rickshaw to reach Farmgate early, but got stuck in traffic in Hatirpool and Paribagh.   
"It took me around an hour to travel the distance which usually takes about 20 minutes on foot," said Abul.
Abdus Sobhan from Dhanmondi said he was stuck on Manik Miah Avenue and Kazi Nazrul Islam Avenue for nearly an hour.
Both carriageways of Kazi Nazrul Islam Avenue were seen clogged with vehicles, particularly during the rain.
Auto-rickshaw driver Rabbi Miah from Shantinagar said the city's traffic gets gridlocked for hours even after moderate rain.
The duty officer at Dhaka Met office said the capital experienced 43mm rain in 12 hours from morning till evening yesterday. 
The weather department recoded 18mm rain in the capital in the previous 24 hours ending morning yesterday. During the same period, Sitakunda had the highest 126mm rain, Chittagong 57mm, Rangamati 28mm and Chandpur 64 mm.
Such rain is normal during monsoon, the official said.