It's not me
Says BNP's Ctg unit chief about audio-tape voice instructing attack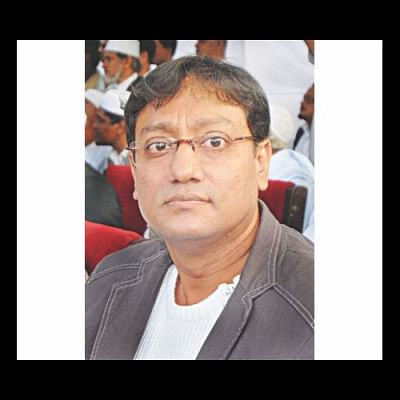 BNP Chittagong city unit President Shahadat Hossain yesterday said he would sue an online news portal for publishing "a fake report" that he ordered the attack on Khaleda Zia's motorcade.
He said the report ran on doinikkhobor24.com was false and baseless, and he would sue the news portal under section 57 of the ICT Act and also file a defamation case.
In the press conference organised at Chittagong Press Club, Shahadat said the report also featured an audio-clip in which, a person is heard asking someone to carry out an attack on the BNP chairperson's motorcade.
"But the voice and accent of the caller are totally different from those of mine," he claimed.
"Apart from being a politician, I am a professional doctor…I attend TV talk shows and speak at public meetings and rallies. Everybody knows my voice. In my 30 years' career in politics, I have never ordered anyone to attack anybody."
Citing news reports, the BNP leader said people knew that the attackers belonged to Chhatra League and Juba League as their names and photos had been published in the media.
"I have not been able to find any office of the news portal in Chittagong… These online newspapers try to be famous overnight by publishing sensational items. They do not think about the impact of fake news on the image of the person concerned."
Shahadat urged the government to identify the person whose voice was heard in the audio clip.
"They [the Awami League] are executing the plans to strangle the media just like they have strangulated the judiciary. That's why the ruling party men attacked vehicles carrying media psersonnel in Khaleda Zia's motorcade."
Meanwhile, AL Joint General Secretary Mahbubul Alam Hanif at a programme in the capital claimed that the attack on Khaleda's motorcade was nothing but a planned drama staged by the BNP.
Culprits behind the attack will be brought to book, he added.