Indian home minister due on Friday
To discuss security, terror-related issues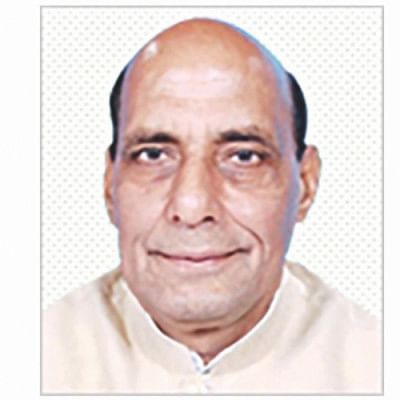 Indian Home Minister Rajnath Singh will arrive in Dhaka on Friday on a three-day official visit to discuss security and terrorism issues with top government officials and strengthen bilateral cooperation between the two countries.
He will be accompanied by top officials of the Indian home ministry and the Border Security Force (BSF). During the visit, the minister is expected to call on Prime Minister Sheikh Hasina.
Both Dhaka and New Delhi are considering Rajnath's visit significant as it is going to take place ahead of Bangladesh's next general election, likely in December.
Officials at the Bangladesh home ministry and Indian High Commission in Dhaka yesterday told The Daily Star that Rajnath would be coming to Dhaka for a home minister-level meeting with his Bangladesh counterpart Asaduzzaman Khan.
The two sides will discuss cooperation between the two police forces, anti-terror cooperation, killing in border areas, checking the movement of illegal immigrants, and smuggling of arms and drugs and fake Indian currency notes.
The Indian home minister will visit Bangladesh Police Academy (BPA) in Rajshahi's Sardah where he along with Asaduzzaman will inaugurate India-Bangladesh Friendship IT Building. The four-storey building has been built under a joint financing arrangement for providing sophisticated IT facilities.
In Sardah, a Memorandum of Cooperation (MoC) will also be signed between Sardar Vallabhbhai Patel National Police Academy (SVPNPA) Hyderabad and Bangladesh Police Academy (BPA) Sardah to institutionalise and intensify cooperation between the police forces of the two countries.
Officials said the two ministers would discuss ways to strengthen the anti-terror mechanism between the two countries and to check radicalisation of youths by terrorist groups. The Rohingya crisis issue will also come up for discussion as both the countries fear redacilisation of Myanmar refugees in Cox's Bazar.
The Indian delegation will discuss steps to strengthen the existing mechanism to check smuggling of cattle, arms and ammunition, narcotics and other items through the Indo-Bangla border.
Bangladesh is expected to raise the issue of killing and injuring of innocent people by the BSF along the border and the illegal transportation of drugs into Bangladesh from India. Extradition of criminals and transfer of prisoners will also be discussed at the official talks.
The Indian side is expected to take up the issue of attacks on BSF personnel by criminals based in Bangladesh, according to a PTI report run by The Times of India yesterday.