Rajnath talks security, pledges stronger ties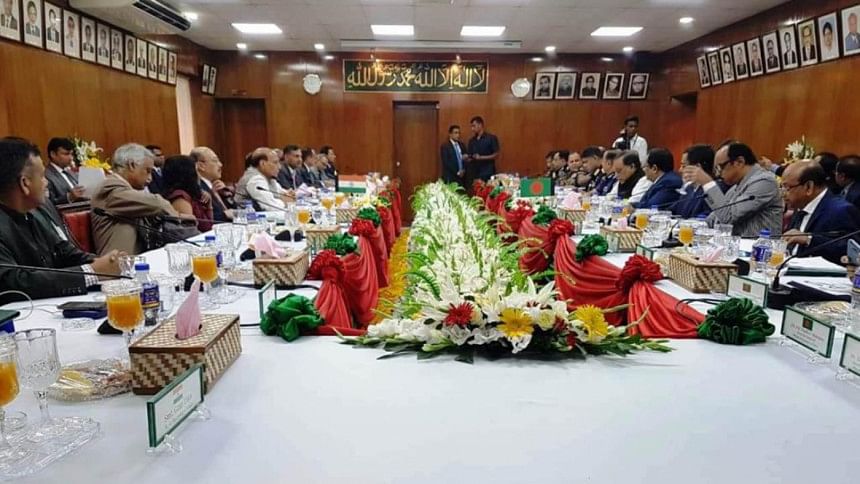 Visiting Indian Home Minister Rajnath Singh has extended the government of Prime Minister Sheikh Hasina his country's commitment to further strengthen ties.
He assured of strengthening bilateral relationship on the basis of friendship, trust and understanding for the mutual benefit of the people of the two countries.
In return, his Bangladesh counterpart Asaduzzaman Khan also assured the same at the meeting between the two home ministers in Dhaka today, says a press release of the Indian High Commission in Bangladesh.
During the meeting, all security related matters of interest including counter terrorism, capacity building and increased cooperation between security agencies were discussed.
Among other issues that were discussed were border management, countering illegal activities like fake currency, drug and human trafficking, consular issues.
Both ministers noted the significant progress made in bilateral ties "under the dynamic leadership of Prime Minister Narendra Modi and Prime Minister Sheikh Hasina".
After the meeting Minister Khan told reporters: "If any problem arises in future, we (India and Bangladesh) will resolve through discussion and mutual understanding".
According to him, the Indian minister has said the present relation with India is at the "highest level" now.
With Bangladesh's parliamentary election just five months or so down the road, the visit of Indian home minister is being heralded of high importance.
Rajnath Singh has already met Prime Minister Sheikh Hasina and discussed politics.