Eid Journey Thru' Dhaka-tangail Highway
Home-goers may face tailbacks in Dherua area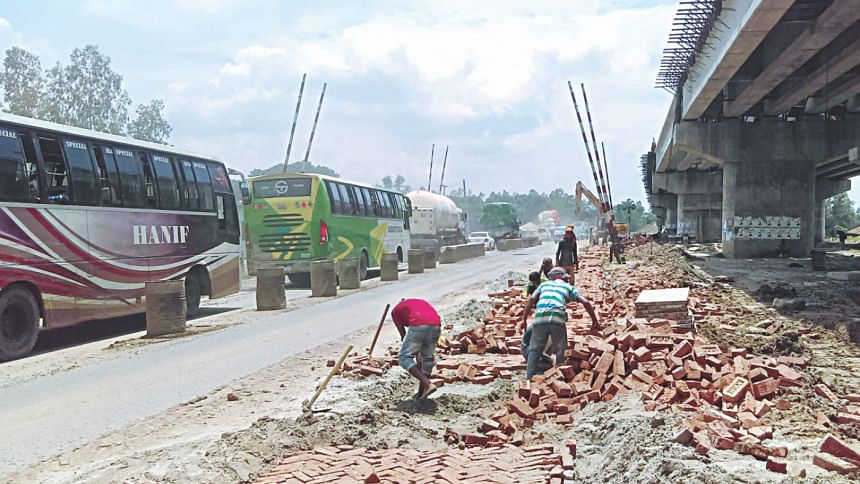 Transport workers fear that holidaymakers would face traffic jams during Eid rush in Dherua level crossing area in Mirzapur on Dhaka-Tangail highway. The road is narrow there and traffic is stopped repeatedly due to crossing of trains.
"Severe traffic jam is common at Dherua during every Eid as at least 24 trains cross the level crossing every day. Moreover, the two-lane road in the area may create problems this Eid," said Nurul Islam, driver of a Dhaka-Tangail bus.
"This problem will end when construction of a flyover over the level crossing will be completed," he added.
Contacted, Jikrul Hasan, manager of Joydevpur-Chandra-Tangail-Elenga Four- Lane Project, told this correspondent that they were working in Dherua level crossing area to widen the two-lane road to facilitate smooth vehicular movement during Eid.
The road widening work, done by laying bricks, ended yesterday. Repairs to other side of the road would be finished today, he added. 
"However, there will be a little problem in the level crossing area and the local highway police is supposed to tackle it as per a plan made at meetings," he said.
Contacted, AKM Kawsar, officer-in-charge of Gorai Highway Police Station, said they hoped they would able to keep vehicular movement smooth during Eid.  
Jikrul said they had already open most of the newly constructed bridges on the 70km highway, and the rest would open today. 
Abdus Sattar, driver of a Nilphamari-Dhaka bus, said except the condition of road in Dherua area, the road at some places -- Elenga Bus Stand, Pungli, Rabna, Gharina, Nagar Jalpai, Taratia, Kataria, Karatipara, Dhalla and Shavulla -- are in bad shape.
"Though nominal repair work has been done in these places recently, the road will be the same as before if it rains two or three days," he added. 
"The condition of the road in these areas will not hamper smooth vehicular movement," Jikrul hopes.