Heavy rain sends parts of port city under water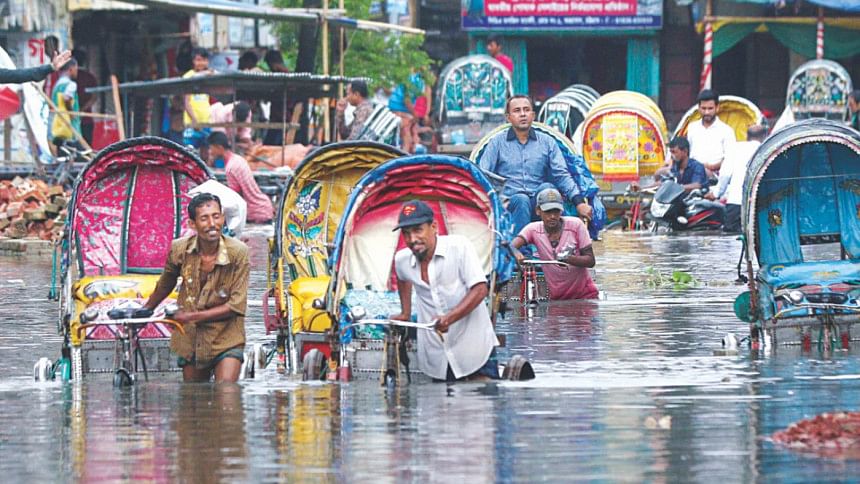 Incessant downpour since Sunday morning till yesterday noon submerged parts of the port city in knee to waist deep water, immobilising movement in the city and causing residents to suffer immensely.
The city's low lying areas, including Muradpur, Bahaddarhat, Soloshohor, Chandgao, Bogarbil, Sirajdoullah road, Badurthola, Halisohor, Agrabad, Chawk Bazar, Mohra and Kalurghat, were all water logged.
Meteorologist of Chittagong directorate of Weather Office Abdul Hannan told The Daily Star that at least 229.4 millimetres of rainfall was recorded from the 3:00pm on Sunday till 3:00pm yesterday.
This was caused due to natural depression in the bay, which is now hovering towards Comilla and Tripura. The rainfall would gradually decrease by today, he added.
City dwellers struggled to reach their destination as the busy roads of the city remained submerged. Rickshaw puller took this as an opportunity to demand exorbitant amounts of fares.
Subol Barua, a resident of Badurthola area, told The Daily Star that water seeped into his house at around 12:00am.
"There was water inside the house for five hours, damaging our valuables. My family and I had to stay awake the whole night. Our whole residential area is submerged," he said.
Bokteyar Hossen Saimon, a resident of Chandgao residential area, said that the whole area remained inundated throughout the night.
"Waiting for the water to recede, we could not go to work due to the water logging," he said.
In the meantime, Chittagong district administration instructed 490 families from nine hills to relocate, Mohammed Delwar Hossen, additional deputy commissioner (revenue) of Chittagong, told The Daily Star.
People from Motijorna area, Khulsi, Akbar Shah, Batali Hill, and Jalalabad had relocated, some of their own accord, he said, adding that most of the families took shelter at their relatives' homes.
Primary schools in those areas were used as temporary shelters for those who did not have a place to go, he added.
Ongoing activities in Chittagong port were not impacted by the rain, although loading and unloading of products at the outer anchorage remained suspended since yesterday, port sources said.