Harunar Rashid Khan Monno passes away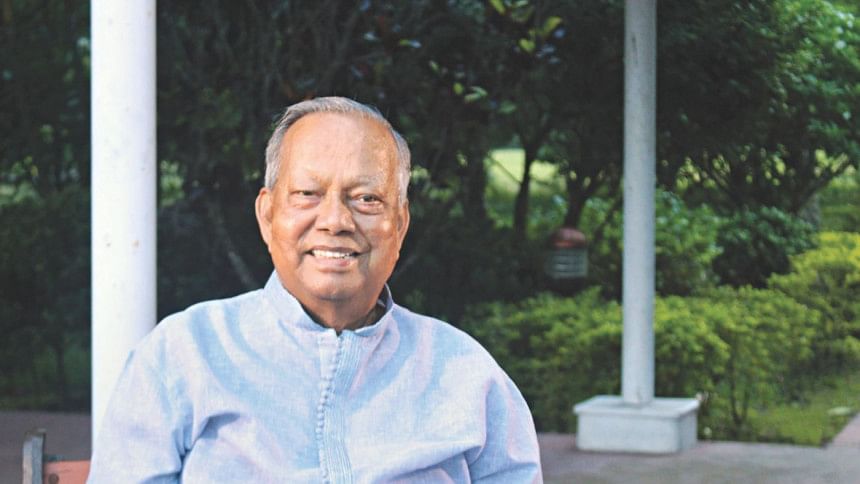 With Tk 350 in pocket, he had set out to pursue his childhood dream of becoming an industrialist in early 60s. He turned down a lucrative job offer at that time when West Pakistan-based businesses dominated trade and investment in the then East Pakistan.
Harunar Rashid Khan Monno did chase his dreams with his vision, intellect, hard work and sincere efforts, and built an empire of 19 entities that employ 6,000 people.
The man who later became a politician, died early yesterday, leaving behind a legacy of industrialisation.
He was 84.
The pioneering industrialist who was suffering from old age complications breathed his last at his residence at Monno City in Manikganj. On July 22, he was admitted to Lab Aid Hospital in the capital and was taken back to his residence on July 31 after his health condition improved a bit.
He left behind his wife Hurun Nahar, two daughters -- Afroza Khan Rita and Firoza Mahmud Parvin. His burial will take place when his eldest daughter Rita returns from London, family sources said.
Monno was the chairman of Monno Group of Industries that includes the flagship company Monno Ceramic Industries Ltd, a well known brand in ceramic wares in households.
For his contribution to industrialisation, he was conferred with the Lifetime Achievement Award -- DHL-The Daily Star's Bangladesh Business Awards for the year 2017.
But Monno did not confine himself only to the business world. He set up a medical college, a nursing college, a nursing institute and a school and college.
He also established a charity to carry out social development work. He helped set up many schools, madrasas, mosques, graveyards and temples.
Apart from engaging in social welfare activities, Monno also joined politics and served as a minister without portfolio in the BNP government led by Khaleda Zia after he had won two seats in the 2001 election.
He was Khaleda's adviser and president of Manikganj district BNP. He was elected an MP from Manikganj three times in 1991, 1996 and 2001.
Born on 17 August in 1933 under the then Dhaka district, Monno passed matriculation from Manikganj Model High School in 1952. He completed Chartered Account (CA) Course after passing B.Com from Jagannath College of the capital.
He started his business with a tiny order of making register book from Adamjee Jute Mills Ltd. Later, he gradually expanded his business beginning with Monno Art Press.
He later established many institutions one after another. He created employment through different organisations including Monno Ceramic, Monno Jutex Industries, Monno Fabrics and Monno Attire Limited.
Khaleda Zia has expressed deep shock at the death of Monno.
"Deeply saddened at the death of eminent entrepreneur, philanthropist & ex MP Harunur Rashid Monno," Khaleda Zia tweeted. "May his soul rest in eternal peace," she added.
In his preface of the book My Life History, Monno said he had no lack of fulfilment. "What I have got is more than what I had wanted."
"If my life history inspires anyone to love his own work and makes his position stronger, that would be my achievement."