Hard time for media
Bangladeshi journos, online activists faced 213 attacks in 2014, mostly by state machinery, says ARTICLE 19, intl media watchdog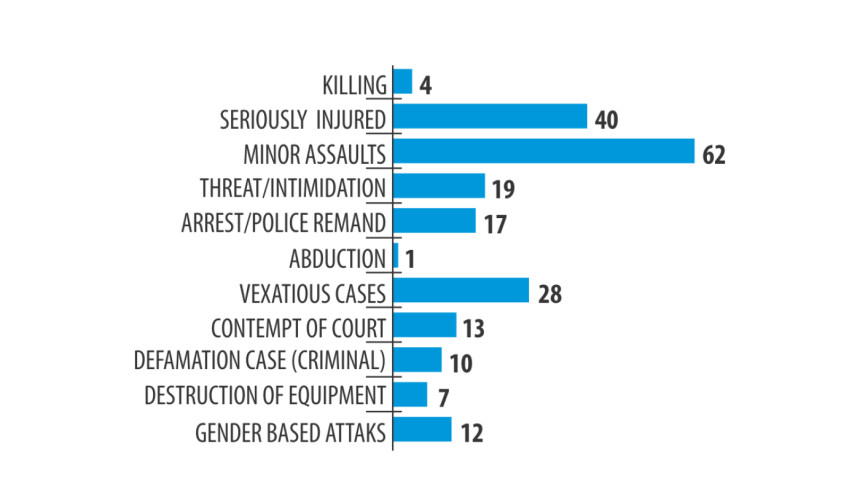 Law enforcement agencies and ruling party activists carried out 56.68 percent of the total attacks on journalists and online activists in Bangladesh last year, says a report by a UK- based organisation.
The total number of legal proceedings against journalists and online activists has also risen since last year, according to the report prepared by ARTICLE 19, an international organisation promoting freedom of expression and information. 
Tahmina Rahman, director of the organisation's Bangladesh and South Asia chapter, presented the report yesterday at the Dhaka Reporter's Unity on the occasion of the World Press Freedom Day.
Out of the 213 attacks on journalists and online activists last year, 23 percent were carried out by police, Detective Branch of police and special forces such as Rapid Action Battalion (Rab), 33.69 percent by leaders and activists of ruling party and 11 percent by government officials, reads the report.
In 2014, 17 journalists and online activists were arrested and 13 of them were arrested under the Information and Communication Technology Act, 2006.
"In 2014, we recorded 68 cases of harassment, which was 31.92% of the overall number of violations. The harassment was carried out in a variety of ways: (i) vexatious cases; (ii) contempt proceedings drawn by courts; (iii) criminal defamation; and (iv) arrest under the Information and Communications Technology Act 2006 (as amended in 2013). Apart from being effective tools for harassment, all of these generate fear and lead to self-censorship," says the report. 
"Last year, four journalists were killed," Tahmina said. "They were Shah Alam Mollah, Sardar Nipul, Delwar Hossain and GM Babar Ali."
Mollah, a reporter of fortnightly Aparadh Daman, was allegedly killed by personnel of Uttara West Police Station in Dhaka. Nipul, a reporter of a local newspaper Daily Mathabhanga in Chuadanaga, was allegedly killed by local political activists. Hossain, Narayanganj correspondent of the Daily Samachar, was allegedly killed by land grabbers.
Babar Ali, Khulna bureau chief of the daily Amar Desh, died under mysterious circumstances.
The report can be accessed at http://www.article19.org/data/files/medialibrary/37946/Bangladesh-FoE-Co...(2).pdf.
Rahman said primary information for the report was collected from national English and Bangla dailies and journalists from different districts of the country.
The 28-page report also noted that journalists and online activists faced 40 incidents of serious injuries, 62 minor assaults and 17 arrests but not a single conviction could be found for violence against journalist.
Tahmina called on the government to establish a specialised mechanism to provide protection for journalists and investigate attacks on freedom of expression overseen by an independent body.
"We also urge media houses to support their staff when they come under attack or face legal harassment," she said, adding that media houses should adopt equality policy and develop a complaint mechanism for female journalists.