Overcoming the odds
7 women of a family run restaurant, shop on Dhaka-Rajshahi highway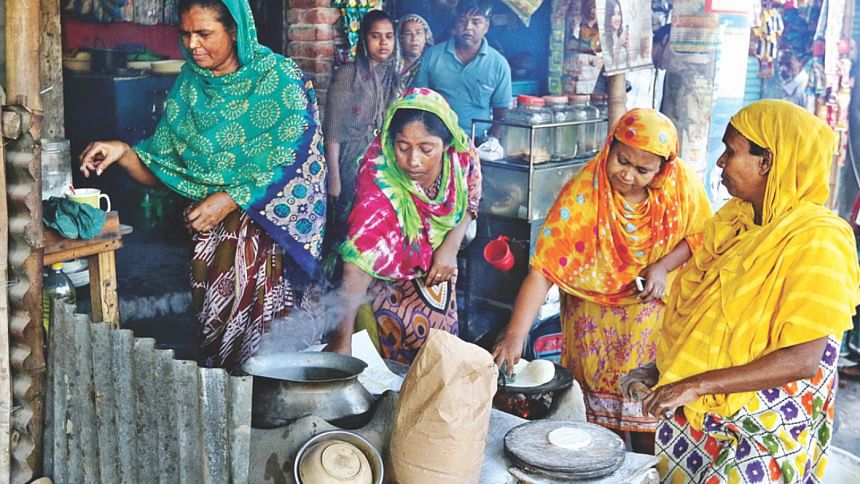 Roadside restaurants are a common scene across Bangladesh. But it is considered a male's domain, with transport workers and travellers as the main customers.
However, seven women of a family at Rajshahi city have broken past the stereotype and help run the family style restaurant. It is now frequented by travellers and locals alike. Their popular dishes include khichuri, rice, bread, egg, chicken and beef.
Housed on the South side of the Dhaka-Rajshahi highway, opposite the old railway station and near Haq's Inn Residential Hotel at Seroil, the women also run a tea stall and variety grocery store alongside the restaurant.
"Woman cook at home all the time; why not cook at a restaurant and help run the family as well? What these ladies have accomplished here is extraordinary," said Jahanara Begum, a customer and neighbour.
The story behind their start-up is even more inspiring, thanks to the vision and forethought of Asma Begum. "We have no power, money or influence; but what we do have is unity. And that is needed to better your living condition," she said.
"We are united in our struggle and that is our strength."
One peek into this cosy little place and the women are seen hard at work, with a clear division of work. One woman rolls out the bread, another washes the dishes, another places firewood under the stove, while another takes orders and serves the dishes. 
Asma raised three daughters and three sons with her husband's income from a betel-leaf and cigarette store set up in a wooden shop under a Korai tree at the same place.
Although her sons Nur Alam and Alamgir Hossain have learned to earn by driving auto-rickshaws and running small businesses of their own, Asma had always worried about her eldest, Jahangir Alam. He could barely make ends meet since he suffered a fracture in his left leg when he was a child. He still coped bearing the expense of his four member family by pulling a rickshaw.
When her husband died six years ago, Asma asked Jahangir to quit rickshaw-pulling and run his father's store. The 42 year old grew the business into a variety store and ran it for a while.
However, in July this year, the landowner demolished the store and built brick stores in place of the wooden shops. Jahangir, who paid Tk 1,000 as store rent earlier, had to pay Tk 4,000 a month to run the same store.
"Soon enough, it was impossible to bear the rent hike," said Jahangir.
It was then that Asma inspired Jahangir's wife Ferdousi Begum to get a loan of Tk 30,000 from an NGO to setup the restaurant.
Seventy year old Asma also asked two of her sisters -- Amena Begum and Sufia Begum -- to help out.
"We employed ourselves. My son would not have been able to pay worker's salaries otherwise."
"We passed many a day taking a meal or two a day. Now we all enjoy three meals a day, feeding all our children, brothers and sisters, paying off the loan, and still saving a bit of money," said Ferdousi, who makes the tea and cooks a dish or two at the restaurant.
Ferdousi's daughter-in-law Sharmili runs the variety store next door.
Asma's two other daughters-in-law -- Salema and Rukshana -- help with the cooking.
"I enjoy working here. It's a great feeling to see the smiling faces of all my family members," said Amena.