Dutch Woman's Calling: Improving the lives of children with disabilities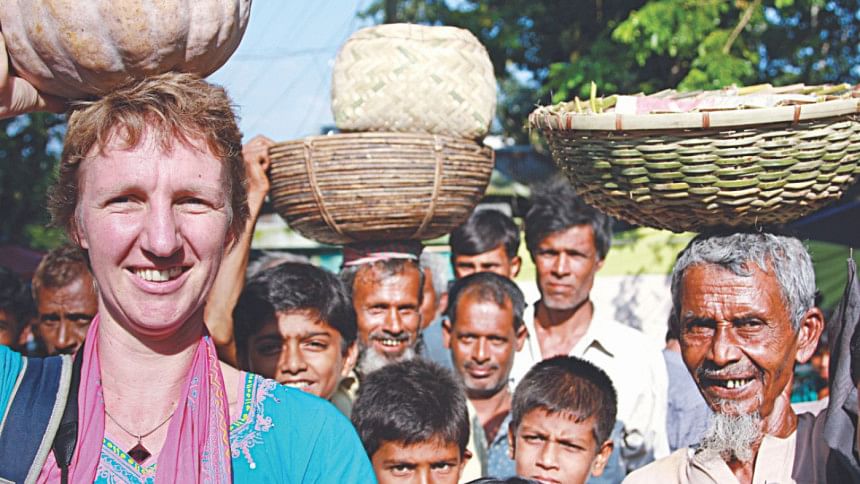 People call her "Vindeshi" or a foreigner. But this Dutch woman, who prefers to be called "Khalamma" or aunty, has spent 20 years to make life better for children with disabilities in Bangladesh.
Meet Antoinette Termoshuizen, a 51-year-old woman relentlessly helping educate and rehabilitate children with physical and mental challenges for all these years, thousands of miles away from home, to live up to the promise she made to a child with disabilities.
Even after an attack in Bangladesh that eventually paralysed her, she remained firm and continued her work.
"I do not feel that I am a stranger in Bangladesh. I'm Khalmma. Everybody knows me as Khalamma," said Antoinette, now living in Ghior of Manikganj, as she shared her story with The Daily Star recently.
Indeed, hers is an amazing story of selfless love.
Antoinette started off in Bangladesh in 1998 with 10 physically and mentally challenged children after forming a charity called Niketan Foundation. Twenty years down the line, her centres in Dhaka and Manikganj are now home to more than 500 children with disabilities.
Apart from Khalamma, she quite correctly calls herself a professional beggar, because she shuttles between houses and organisations to raise funds for the children. Besides, she has to convince her donors about the needs of the children.
But what motivates her to do this in a country some 7,600km away from home?
Antoinette tells the story.
It was 1992. She was not enjoying her job back home.
"I felt I had to do something else."
She took her bicycle and set out for Indonesia. But she returned to the Netherlands via some other countries on her bicycle in a bid to collect funds for physically disabled children.
In the later part of 1992, she arrived in Bangladesh.
"Here I met a boy whose name was Sayeed. Sayeed was a normal child up to five years of his age, but due to an attack of Meningitis he got paralysed.
"The boy had a lovely pair of eyes and enchanting smile. I was immediately in love with the boy," she said.
But when she went back home, she always remembered that she promised Sayeed something.
"I have to do something with my promise. I tried to raise funds, but everyone was saying that we can give you money but you have to go to Bangladesh otherwise we don't think the boy really would be benefitted."
So she came back to Bangladesh and continued working for children with disabilities.
"When I started I had 10 children and now I have more than 500 children under my project," she said.
Initially the challenge she faced was that people would think that she would give them some injection or special kind of medicine that would heal them.
"But things don't work like that. I had to always try to convince them that I could help them heal to some extent, help them flourish through some games and therapies," she said.
"But they didn't believe that only games and some therapies might help. They always asked for injections or medicines."
During her stay in Bangladesh in 1995, a schizophrenic man stabbed Antoinette in her back. She was paralysed and received treatment in the Netherlands. But she returned to Bangladesh again.
"I learnt a lot during that period as a number of my kids are paralysed.
"That's why I never think some horrible things had happened to me. I think God has given me more experience to understand the feelings of my children," said Antoinette, a mother of two.
She adopted two more children from Bangladesh, one of them has severe disabilities.
Niketan Foundation has three centres in Bangladesh -- two in Baniyajuri and Ghior of Manikganj and the other in Badda in the capital.
For her work, Antoinette needs volunteers and funds.
"The funds could be anything. It could be rice, clothes, money, toys, anything. We do need a lot," she said.