In desperation
Schoolgirl cuts her tendons to stop being married off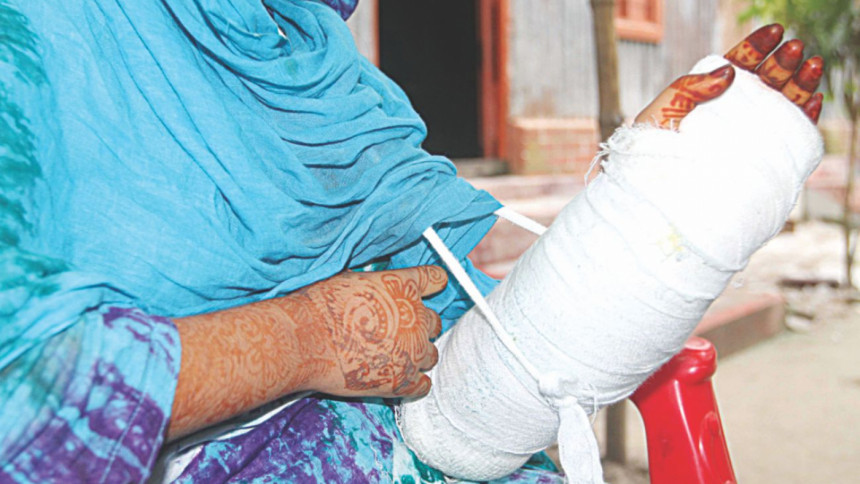 Bithi Akter's mehendi is still peeping out from under the bandage wrapped around her wound on the left hand. The 15-year-old inflicted the injury on herself by cutting her tendons on Friday when she saw no other way to escape a forced marriage.
In her frantic efforts to stop the marriage, she even communicated the matter the day before to Abu Nasar Beg, upazila nirbahi officer in Kalihati where she lives with her family.
She told the UNO that her parents had arranged her marriage with a bus driver, from Khayerpara in adjacent Ghatail upazila, against her will.
"I went to the house of the girl. Her parents produced a cousin of her as bride in front of me. I understood they were faking it as I quizzed the girl [cousin] and asked them to produce the genuine bride," Abu Nasar said.
Bithi then told him that she didn't want to marry at this age and expressed her wish to continue her studies.
To ensure that the illegal marriage doesn't take place, the UNO then took an undertaking from Bithi's father Bellal Hossain, a day labourer at Moheshpur village of Kalihati upazila in Tangail, that he would not marry off his daughter until she reached 18. 
"I also assured the family of bearing all expenditure of the girl's education," he said.
But that didn't help Bithi.
When this correspondent visited her at her house yesterday, she said her family had become very angry when she objected to the marriage. 
A class nine student of Jetendra Bala Girls School at Elenga, she dreams of taking admission to a polytechnic institute after passing Secondary School Certificate exams.  
"My relatives, especially [paternal] uncles, pressed me to agree to marry the next day as the UNO left the house."
When she still opposed the marriage, her mother hurled abuse at her, beat her up and threw a kitchen knife at her.
The sharp object missed the target. In the heat of the moment, Bithi picked it up and cut her tendons on the left hand.
She was immediately taken to a private clinic. Following treatment, she returned home on Sunday night, family members said.
Bithi's mother Salma Begum said poverty had made them to go for her daughter's early marriage.
Konika Mollick, women affairs officer in Kalihati, told The Daily Star yesterday that she was following up the case. She had not taken any statement of the girl but staff of her office went to the girl's house.
When asked why people responsible for the incident were not punished, the UNO in Kalihati said he was not allowed to run a mobile court as a case linked with a dispute over who would be having the authority to run mobile courts was being heard at the apex court.    
Mostafizur Rahman, officer-in-charge of Kalihati police, said police had not received any complaint in this regard yet.
"Necessary steps will be taken after a complaint is lodged."